Fall sports preview
Boys Golf: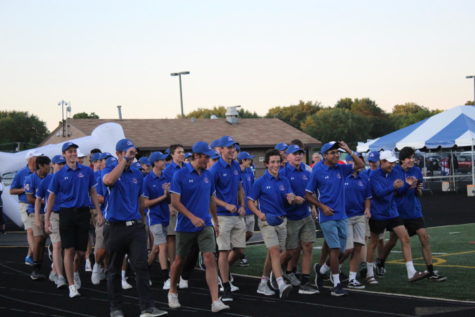 The Glenbard South boys golf team has entered the 2019 season as the reigning Upstate 8 Champions, with many returning players since only two athletes graduated last year. Top returners will include Michael Nathe (Sr.), Jacob Cyrus (Sr.) and Jack Michelon (Jr.), who all had extremely successful seasons, advancing to sectionals last year as individuals. In addition, Nathe won the Upstate 8 Conference Tournament last year.
 Moving forward, the team's goals this year will be to repeat as conference champs and to advance deeper into the state playoffs as a team. The Raiders opened conference play on Friday, August 27th, with a home match against Glenbard East and Larkin. The Glenbard South team took the win with a score of 175 against Glenbard East and Larkin's 194.
Girls Golf: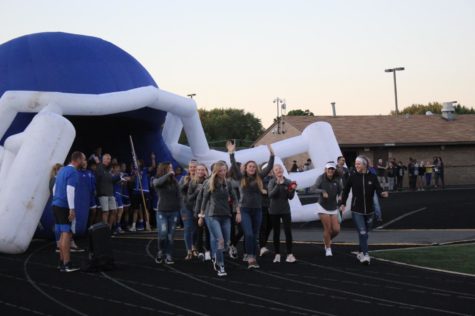 The Glenbard South girls golf team has entered this season with high hopes, led by senior golfers Katie Weiss and Megan Bristow. Also joining the team this year will be junior Brooke Scholtens, and sophomore Paige Kennedy. With only five other schools in the Upstate 8 Conference offering girls golf as a sport, the Raiders will be hopeful to challenge for a conference championship. Coach Burner has emphasized how important a good start will be because of how short the golf season is, with playoffs starting in early October. Team goals for this season will be to have a solid six for regionals and possibly advance individuals to the sectional or even state tournaments. Bristow shared, "We really just want to keep improving our skills and scores this season." 
The girls began the season when they traveled to Wing Park for the U-46 Tournament on August 21st, and have been busy with many matches since then. 
Football: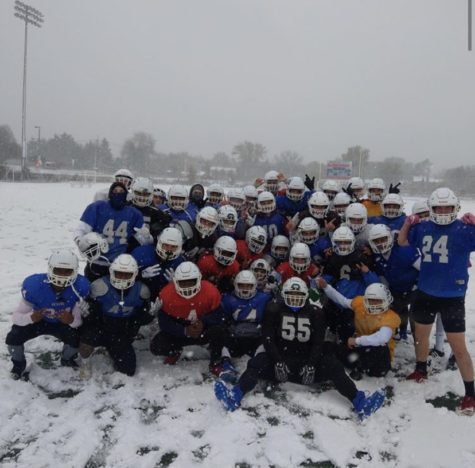 The Glenbard South football team has entered the 2019 season with hopes of improving from the disappointing 2018 year – only going 5-4 and losing in the first round of the playoffs. Senior quarterback, Nick Plaso said, "This will be a testing year with our young team, but if we mold together and play hard, I believe this can be a special season." 
The team sees nine out of eleven starters returning which will provide the team with the needed experience in such a difficult Upstate 8 conference. The addition of Fenton and seeing West Aurora exit should give the Raiders a better chance to rival the conference championship. The team will look to improve off of last seasons low win record and make a deeper run into the state playoffs. The Raiders began their year Friday, August 30th, hosting Streamwood and snagging a 13-6 win. The next game is scheduled for September 6th at Elgin, and the student section theme is red out!
Boys Soccer: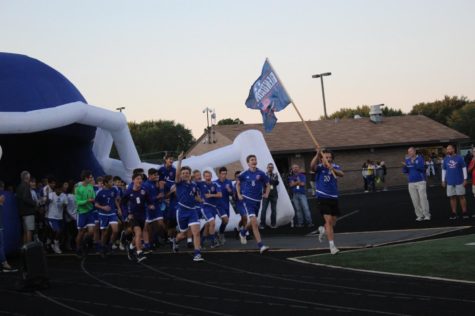 The Glenbard South boys soccer team has entered this year coming off a disappointing 2018 season not winning one conference game and losing in the first round of the playoffs. With returning senior captains, Josh Cohen, Ryan Vozza and first year Brennan Rzewuski leading the team, the boys will be hopeful for a better season. After graduating from a core of the starting group of last year's team, head coach Adam Szyszko will look to this year's junior class to rise up. Top juniors for this year include Lance Evans, Gabe Alcala and Patrick McMahon. The boys plan to have a very competitive season being now that Upstate 8 Conference will be made up of mostly 3A schools while Glenbard South will be only 2A. Coach Szyszko has said a conference win would be a must for this year's team. "The group seems to have pretty good chemistry, decent talent, and they are hard working." 
The boys played for the Raider Invite championship on August 31st against Nazareth and took the win with a 4-0 victory.
Girls Volleyball: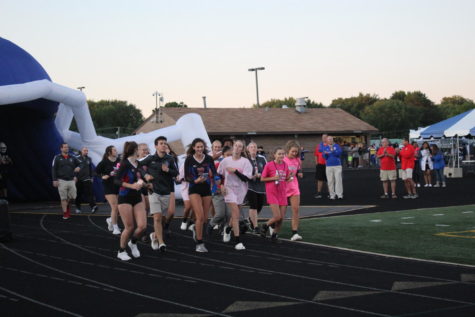 The Glenbard South girls volleyball team has come off a disappointing loss in last years' Class 3A regional final to St. Francis and look for redemption entering the 2019 season. Top returnees for the girls will include Kathleen Millet, Sadie Camfield and Lauren Sweeton, all seniors. The Raiders will also see the addition of Brittany Miller, a sophomore whose head coach, Chad Grant, has named as the teams top newcomer. Grant believes this season will hold promise for the team. "Last year's record is very misleading, as we played for long stretches without Hair, Camfield, Millet and Wilharm- all due to injuries." The team sees three seniors that will be entering their third year on varsity, with Millet having been on varsity since her freshman year. Grant is very pleased with the upside of players that he has at his disposal this season and will believe they will compete for a conference title but does expect a difficult playoff draw. The girls opened conference play with Bartlett on Tuesday, September 3rd. 
Boys Cross Country:
The Glenbard South boys cross country team is expected to have a very successful year. Head coach Douglas Gorski has stated, "…the team put in a lot of miles over the summer which should pay off this fall." The returning runners will include Ryan Allspach ad Ethan Woods, who both made it to the sectional meet last year. The Raiders will also see the addition of a multitude of freshmen and sophomores who have a chance at running with the top seven group this year.  The boys' goal this season will be to make the sectional meet as a team which will provide the boys a chance to advance to the state meet in November. The team began their season on August 28th at Elmwood Park's Trial on The Trail run. 
Girls Cross Country: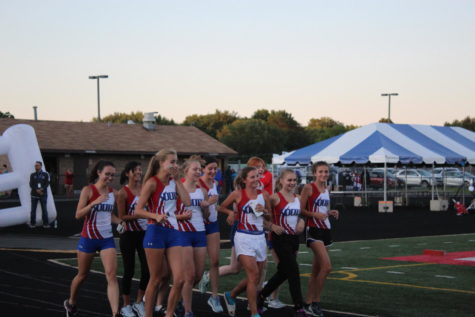 The Glenbard South girls cross country team is hopeful for this season as they have a core group of last year's runners returning for this year. Top returners will include Ellie Stewart (Jr.), Alex Gonzalez (Jr.), Kylie Denardo (Soph), Abby Knight (Jr.), Alyssa Kain (Jr.), Ali Salt (Sr.), and Kelly Anderson (Sr.). Their goals for this season are to improve everybody as an individual runner which will then prompt the team to improve as a whole. They hope to advance as far as they can into the state series at the end of the season. 
Girls Tennis: 
The Glenbard South girls tennis team is looking forward to another successful season in the Upstate 8 Conference. With returning players Kelly Lupa (Sr.), Mikaley Evans (Jr.) and Sophia Pistryak (Jr.), the Raiders believe they will rival for a conference championship. The team goals for the season will be to improve the younger parts of their team and prepare everyone for a playoff run. Senior Kelly Lupa believes they can not only compete for the conference title, but also win it, which will give them great preparation entering into the playoff time.