Review on Alex Dimitrov's 'Love and Other Poems'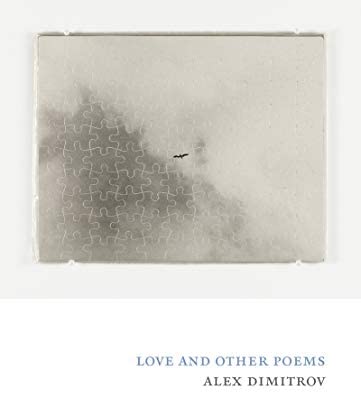 Subject Matter
Alex Dimitrov's novel, Love and Other Poems, is spellbindingly sensual, unraveling in whimsy layers of rage-ridden requiem and compelling reverie. Dimitrov avails New York as his muse, forging a passage meshed of wavering moral and spiritual skepticism. He observes a whiplash of revolving season, revealing his personal abyss of sullen vulnerability, ironic existential dread and mesmerizing mischief. His cynically alluring novel embraces a balance of expressing sexuality and intricate intimacy, whilst maintaining a feverishly forlorn tone, forebode by familiarity.
Formatting
Love and Other Poems spans over a subdued year, divided by a poem addressing each month with weary authenticity. Dimitrov indulges in defiance of his society's status quo by admitting to genuine toxicity and uncertainty. His formatting is fundamental for aiding his collection's overall rhythm and cohesion. Structuring his novel by season prohibited Dimitrov from a commonly unbearable juxtaposition of dragging on or glossing over crucial themes. His overall duration is manageable and accessible for readers who seek depth or density and those less invested or merely involved for pure pleasure. Dimitrov addresses this in a BOMB Magazine article, explaining, "I think this new book is going to be more legible to people—whether or not they have an understanding of poetry's history or are poetry readers—because aesthetically I have written it more plainly. And the ephemeral is, to me, easier to capture when it's more plainly stated,"(Alex Dimitrov).
Friendship
Dimitrov discusses his companionships binding him to reality, and developing his values and characteristics. He devours an overwhelming sensation of fortune emanating from his possession of connection and ability to share influence with individuals. He proceeds, expressing his inner-person which relies on provoking communication which fulfills and validates his core.
Identity
Furthermore, Dimitrov freely expresses reluctance to overly explore his life from a personal perspective. Weary of scrutiny and besmirchment Dimitrov's hesitancy and anonymity regarding himself allows readers to insert themselves in his ominous narratives. In a BOMB Magazine article Dimitrov concludes, "In my own work, identity has rarely interested me. I have too many other things, in relation to the imagination, that I want to explore," (Alex Dimitrov). Writing from a vague, removed lens demonstrates Dimitrov's niche for encapsulating relatable emotion without emphasizing disdain from his individual affairs.
Recommendation
Personally, I found Alex Dimitrov's Love and Other Poems wickedly addicting, satirically magnetic and profoundly passionate. I would definitely recommend Dimitrov's hopeful body of work for those attempting to soothe feelings of desolation or languishment.