Orchestra Concert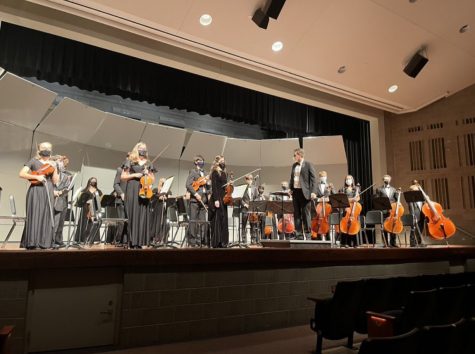 On October 7th the Glenbard South Orchestra had their first concert of the year.
The Chamber Orchestra played first at 7:30pm, performing "Danza Final" by Alberto Ginastera and arranged by Robert Longfield, "Chaconne" by Henry Purcell and arranged by Vaclav Nelhybel, "Allegro" by Johann Christian Bach and arranged by Robert D. McCashin, and "Baltic Dance" by Kirt N. Mosier. 
The Honors Orchestra performed second, playing "Pavane for a Dead Princess" by Maurice Ravel and transcribed for a string orchestra by Owen Goldsmith. Honors Orchestra is an outside of school ensemble, similar to concert orchestra that students must audition to get into. The ensemble meets Mondays before school and Tuesday evenings. The last ensemble of the evening was the Concert Orchestra. 
The Concert Orchestra performed the pieces "Estampas Nocturnas" by M.M. Ponce, "Tonight" by Leonard Bernstein (from West Side Story), "Brandenburg Concerto No. 1 in F Major" by Johann Sebastian Bach, "Adagio" by Rachmaninoff (from Symphony No. 2 Op. 27), and "Ravel Suite for Strings" by Maurice Ravel. 
Mr. Govertsen is the Orchestra director at Glenbard South and says that all ensembles have been working hard for their first time on stage this year.
    Some of the section leaders in both orchestras were able to share some information and perspectives on Orchestra and the concert. Freshman Kaitlyn Haas, the Second Violin section leader in Chamber Orchestra, said, "I am excited that we can once again play in concerts for friends and family to hear and appreciate the hard work we put into making these pieces perfect." Haas also said that, "Music, like the other arts, is a creative outlet for people to use to express their feelings and emotions. Almost anyone can understand the meaning behind music which can be a very good tool to communicate and relate to others." Freshman Olivia Weber, Viola section leader in Chamber Orchestra, shared that one thing people should know about Orchestra is that. "Orchestra is a fun yet expressive way to relax and relieve stress and while it can be difficult at times, the overwhelming feeling of accomplishment after learning a difficult piece is amazing." Weber is also excited to play in front of a live audience instead of recording to get the full experience of being in an ensemble. 
Freshman Grace Bittlingmaier, Bass section leader of Chamber Orchestra, shared, "I'm excited for my first concert of the year, and first concert at South because I always enjoyed spring concerts in middle school because we got to perform here. It was super cool as a kid to go to the high school to perform, and now it's really surreal because now I'm one of the high schoolers I always thought were so far away." 
When asked what one thing people should know about orchestra, Sophomore Lorenza Foster-Simbulan, Cello section leader in Concert Orchestra, responded with, "Anyone can join whether you've played since you were five or have never touched an instrument," said Foster-Simbulan. Foster-Simbulan said that she was especially excited for her solo piece in the concert as well as her first experience as a section leader. 
Junior Sophia Grimes, the first Violin section leader of Concert Orchestra, said, "I think that performing with an orchestra is incredible. It is truly a miracle that with all of the technology used in music production today, it's possible to be in an ensemble where the music being made is powered completely by people playing archaic instruments. There are many tones and colors that can be expressed in an Orchestral setting. I love the energy and sense of community that can only be achieved by playing in an Orchestra." Grimes shared that she too was most excited for playing in front of a live audience and stated, "One of the most joyful experiences is sharing the gift of music with others in real time." Grimes shared that music is important to her because it allows her to form connections with others and herself as well as find expression within her instrument and a community with other musicians. 
    The concert was a success for all and achieved the goal of getting back into a live performance setting. Although COVID-19 guidelines kept each family unit three feet apart in Glenbard South's auditorium, the music coming from the stage was the sound of joy as students performed their pieces to an excited audience. 
The concert was the first of many planned and started off the Orchestra's year on the right note.