New twists for "turkey" day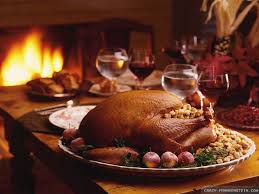 Hang on for a minute...we're trying to find some more stories you might like.
Thanksgiving can be a favorite holiday because it has the ability to bring loved ones closer together and remind people of the things in the life that they are truly grateful for. People also love Thanksgiving because of the great food that is served. Although turkey is the traditional main dish, one should consider having alternative main dishes to give guests and family members the option to switch up his or her Thanksgiving routine.
For those who feel like sticking to the turkey, there are still many ways one can make turkey new and exciting. The turkey can be cooked in new ways, such as being baked, fried, roasted, put in a slow cooker or smoked. Turkey can be made more flavorful as well. One could consider giving turkey a new brine, a gravy or a spice rub. Given these updates on the Thanksgiving turkey, one may just want to stick with it as the star of the meal. You can find a link to a delicious turkey recipe at the following website: http://www.thekitchn.com/how-to-cook-a-turkey-the-simplest-easiest-method-cooking-lessons-from-the-kitchn-160905
On the other hand, a new option for a Thanksgiving dish is lamb. Leg of lamb is a more luxurious cut and would make a fascinating main course. Lamb is tender and exciting on the palate. One could apply an herb rub to the meat and after "detailed" preparation, which could include making this herb mix, it can be cooked in the oven. Once it is finished and carved, it can be served with a tapenade, which is a puréed spread consisting of olives, garlic, capers, anchovies and olive oil. For a leg of lamb recipe, check out the first half of the following article: http://www.esquire.com/blogs/food-for-men/thanksgiving-lamb-1210
Another main dish that could be considered is beef tenderloin which can be grilled or roasted in the oven. Depending on the number of guests the host has, one can choose to serve a whole tenderloin or just the tri-tip. One should remember the fact that beef can be an affordable main course (tri-tip) or, if the host is willing to splurge, he or she can go with a more expensive and special cut (whole tenderloin). The more affordable option can be found with more detailed instructions on the following website: http://putneyfarm.com/2012/11/20/beef-tri-tip-roast-a-good-meal-for-a-small-thanksgiving/
Lastly, one could have chicken be his or her main dish for Thanksgiving. Chicken is the closest meat to taste like turkey, and if one cannot afford to get a whole turkey, chicken breasts are always an option. It can be a foolproof substitute and still have all the recognizable flavors of Thanksgiving coming through. With the right sauce and seasoning, one may not want to go back to having turkey on Thanksgiving ever again. If one wants to make chicken breasts, they can look to this article for a tasty recipe: http://fullthymestudent.com/thanksgiving-chicken-breasts/
Whether one will be inspired to do something new this upcoming holiday or if they would prefer to stay with what they have always done, Thanksgiving's festivities will not be the same without a big, delicious feast. Happy eating and happy Thanksgiving!