My Policeman
Released in late October of 2022, My Policeman is based on the novel of the same name by Bethan Roberts. The movie follows the story of three characters between two timelines, with the earlier one taking place in the late 1950s and starring Harry Styles as Tom, David Dawson as Patrick, and Emma Corrin as Marion. The later timeline takes place in the present day, starring Linus Roach as Tom, Rupert Everett as Patrick, and Gina McKee as Marion.
The movie starts in the present timeline as Tom's wife, Marion, takes in Patrick after he has had a stroke and cannot walk or talk coherently. She finds his diaries, and the movie uses his entries as the portal to tell the story of their past. 
Tom, a policeman looking to move up the ranks, has begun a relationship with a supposedly ideal woman to be his wife, Marion. Early in their relationship, they meet Patrick when he serves as their museum tour guide, and it is revealed that Tom had met Patrick earlier, when he served as a witness for one of Tom's cases. Tom later posed as a model for Patrick's sketches. 
Patrick and Tom's preceding love affair continues even after Tom begins seeing Marion, and after Marion and Tom get married, she discovers their relationship. Wanting to separate them, "help" Tom and have him all to herself, she reports Patrick with an anonymous tip letter about his illegal homosexual activities. This results in Patrick being thrown in jail, and the guilt she feels is what prompts her to later take Patrick in after a debilitating stroke decades later, in the present timeline.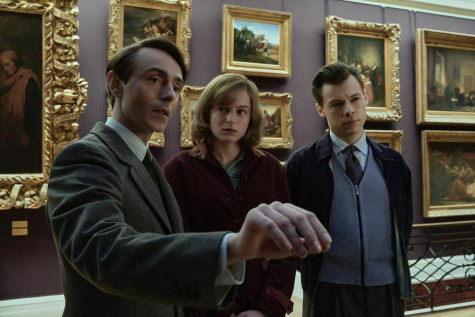 Overall, the movie is a touching and quite sad queer romance, tinged with jealousy and resentment from all sides. No one seems to be the "good" person here, as Tom continues to cheat on his wife, and Marion, pushed to her limit, lashes out at Patrick and ruins his life. In the later timelines, Tom and Marion have remained married, but they are resentful, and their marriage is clearly deteriorating as both blame the other for their unhappiness. While Patrick is sympathetic, he is still selfish and attempts to break up Marion and Tom for the sake of his own happiness. 
The story itself is well done, with a great atmosphere, soundtrack, and overall decent acting. Although, a general consensus among audiences was Harry Styles's overall mediocrity in his role. He was perhaps the weakest point in the film, especially considering he was the central character in a film focusing on only six actors. New to the business, Styles acts like a novice, and although acceptable for a majority of the movie, there are certainly scenes that seem to fall flat with delivery or emotion. Emma Corrin is similarly acceptable, but somewhat underwhelming as younger Marion. Both Styles and Corrin are easily outshone by their cast mates. Among the three younger actors, Dawson easily outdoes the others, delivering a stunning performance with a clearly more complex understanding of his character and emotions. 
However, the older actors create the most gut punching and heartbreaking parts of the story. Gina McKee weaves a complex tale of a resigned and gentle wife, who gave up her life to a man who didn't love her. Linus Roache plays an angry and resentful husband, unable to have the man he loved, hateful of his wife for bringing Patrick into their home as a reminder of his past, and hateful of the times he lived in, the times that doomed Patrick and him. Perhaps the strongest actor of the six, Rupert Everett as an older, broken Patrick delivers a truly heartbreaking performance, despite barely speaking.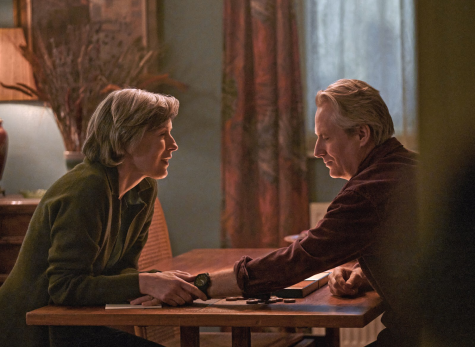 The soundtrack was done incredibly well, lending itself perfectly to the aesthetic of the movie. It seemed to blend so perfectly with the visuals it was almost unnoticeable as it altered the scenes subtly, adding an extra dimension to the film. However, the strongest components of the movie were its visuals, contrasting the brightness of the characters' early lives in the 1950s to the damp, dreary grayness of their present. During their early adventures, especially for Tom and Patrick, their lives are beautiful. The scenery is gorgeous, bright and clear. When they travel to Venice, the sights are gorgeous and the movie feels personal and intimate, romantic. The atmosphere is similar to the feeling of summer in other queer classics like Call Me By Your Name. As the movie fast forwards, it is clear the brightness and romance is gone from their lives, leaving only the melancholy and ordinary. Nothing is new or exciting, and their lives have stagnated into just acceptable, just mediocre. The alternating timelines also serve to show changes within society, and lends itself to one of the saddest scenes in the film, as older Tom sees an openly gay couple kiss in a store, and he breaks down crying, grieving the love he and Patrick had and how theirs was suffocated, pushed down by an unforgiving society. The movie therefore also offers up a moment of introspection for how far society has progressed, but urges the audience to grieve those like Tom and Patrick as forgotten casualties of prejudice. 
With gorgeous visuals, music and truly touching emotional scenes, My Policeman is a melancholy tale of hidden romance, and another must watch story of queer love and loss in an unforgiving and close minded society.