The start of mid-August not only brings the start of school but warm temperatures that reach into the nineties.  The building's air conditioning becomes crucial for keeping teachers and students comfortable, as well as the school day operational. So what happens when the air stops working? 
Not long after the return of students to Glenbard South, a spike in the power grid caused the computer component of the school's air conditioning chillers to short out. Unable to be readily fixed, South's administrators had limited time to create a solution. Luckily Mr. Nielsen, Assistant Principal of Operations, knew what to do. "When you get into this kind of square footage of a building and the amount of areas that need to be cooled, the only thing you can do is basically take an outside unit and plug it in," he explained. 
Parked on the east side of the building outside the courtyard, South's acquired chiller is hooked up to the school's boiler room, pumping the cool in, and taking the heat out. When running at full capacity, the chiller could cool the United Center enough to create ice for the Chicago Blackhawks to skate on. Once rented by the school, the massive chiller, traveling on a truck bed, was driven in from Iowa and was able to be plugged in after only a few short days of waiting. 
In the meantime, while awaiting the arrival of the truck, local temperatures thankfully were low enough for school to stay operational. Box fans were brought in to help stimulate airflow, and areas most prone to high temperatures such as the third floor of the tower contemplated moving to lower levels to hold class. "I feel like we adjusted really well," described Mrs. Hiles, an English teacher on the third floor, "While it wasn't ideal. We got through it and I felt like students were incredibly patient".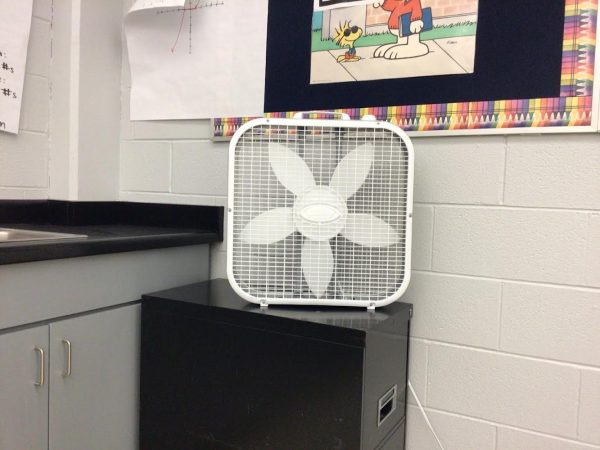 The replacement part needed to fix the school's own chiller's computer is set to hopefully be delivered sometime in October, preparing it for use once again in the Spring. It is very rare that both chillers would go out, leaving the school without any air conditioning. Both chillers are relatively new and can both run independently of the other if one stops working. Until outside temperatures cool to not need air conditioning inside, students and staff can learn in comfortable temperatures thanks to the quick thinking of Glenbard South's maintenance staff.