Practice Makes Perfect for Violinist Sofia Grimes
Music is everywhere. Music lives and breathes in tandem with every joy and pain of human life, a constant societal undercurrent. It means something different to everyone. For Sofia Grimes, a senior at Glenbard South, music is a way of life. 
Grimes fell in love with the violin when she was nine. "I immediately gravitated towards the violin because I loved the high register it can reach," she professed. "The violin has a very broad range, which makes it a powerful conveyor of emotions." 
Since then, Sofia has established herself within District 87 as well as on a state level. Grimes was accepted into the Illinois Music Education Association, or ILMEA, All-State Orchestra and District Nine Orchestra in both 2021 and 2022, two years in a row. She recently qualified for the All-State Honors Orchestra during her junior year.  These groups are incredibly selective and represent some of Illinois' very best musicians. 
"I am very grateful," she enthused. "Getting accepted into ILMEA is an amazing opportunity to play with very talented musicians."
As if those accomplishments were not enough, she was also selected as the last season's concertmaster for the District Nine Orchestra. Concertmasters, known for their extensive musical knowledge, are typically in charge of tuning the orchestra before a performance. Grimes demonstrated this responsibility during Glenbard South's 2021 Holiday Concert.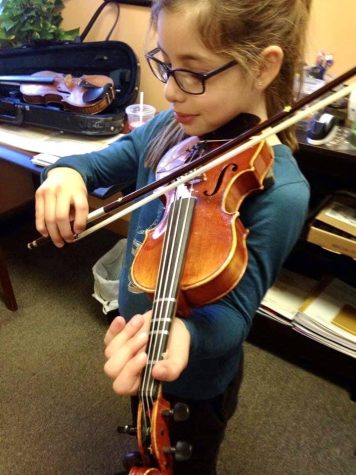 Mr. Govertsen, the orchestra and band teacher at Glenbard South, whose guidance Grimes believes has a monumental effect on her development as a musician, emphasized the violinist's innate capabilities. "When Sofia came in as a freshman to South, she was already a very talented and hard-working student. She had already developed the passion for playing violin that would lead her to work in the way she does."
Getting to this point, however, took more than natural talent. Her instrument requires an immense amount of rehearsal. "I typically practice around three to four hours a day," she admitted. To begin with, Grimes picks out the most difficult sections of music to rehearse with a metronome. She then focuses on memorizing small pieces of the piece at a time. "I strive…to be just a little bit of a better musician each day," she proclaimed.
Govertsen attributes her success to her work-ethic and enthusiasm. "She truly loves music and her instrument in a deep way. She wants to practice and does not mind putting in the many hours of honing and perfecting her skills," he confirmed. "I am so proud that her desire to improve comes from a genuine passion for music. When you get to a high level of musical performance, it is easy to make improving about being 'competitive' with others. Her practicing is so that she can continue to learn and understand and appreciate music on deeper and deeper levels."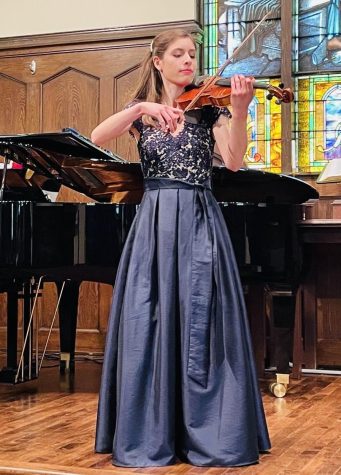 Still, Sofia recognizes the complexities of her instrument. "Violin is a very difficult instrument for beginners because it takes quite a bit of time before a decent sound can be produced. This can be discouraging," she confessed. Grimes believes that this obstacle can only be overcome through a steadfast commitment to rehearsing. "Any musical skills I might have were developed through practice. There are no alternatives for practicing when it comes to development as a musician."
Grimes aspires to continue pursuing the violin into her adult life. "I hope to have a career as a musician one day," she effused. "It would be a dream come true to have a position in a professional orchestra." 
Likewise, Govertsen believes that her skills, work-ethic and passion for music supply her with endless potential. "I have no doubt she has a wonderful future in music," he affirmed.
Grimes never fails to amaze. As the young virtuoso prepares to graduate this year, her future has never shone brighter. Sofia Grimes is surely one to watch.