Sana Muneer has been a dreamer from the start. On August 27th, 2021, her dreams came true. As she bounded into Glenbard South's library that morning with her usual brilliant grin, she knew that this was the moment she had been waiting for her entire life. She had always wanted to create her own world, and now, leading a buzzing room full of writers just like her, she could finally see it come to life.
Before she could become this wordy role model, though, Muneer had to learn from the best.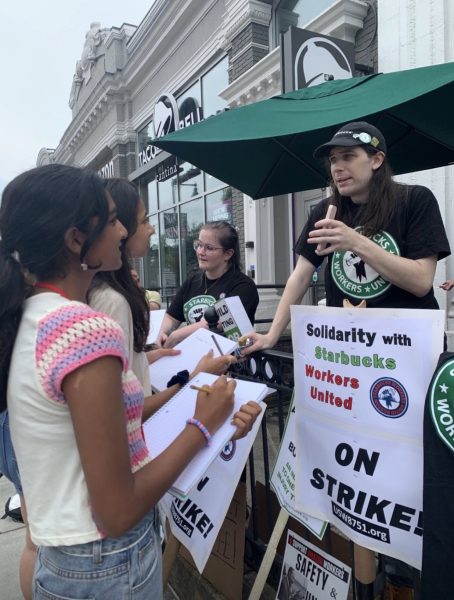 "I've loved to read for as long as I can remember," she pronounced to me, her voice dripping with nostalgia. "I would bring books everywhere I went. My whole family would laugh because I would just be sitting in a corner reading a book instead of socializing."
Hearing this was barely a surprise, in part because, as we conducted this very interview, Muneer was sitting outside the Glen Ellyn Public Library, no doubt anxious to scour its shelves for her next literary obsession.
As a child, Muneer was drawn to stories of magic: fantastical daydreams of realities beyond her own. Since then, her taste has matured, but her passion for the written word remains all the same. "I really knew that this was what I was supposed to be doing," Muneer recalled.
During the second semester of her freshman year, Muneer's best friend suggested that she join South's newspaper, The Independent. Looking to bolster her creative spirit in the company of fellow writers, Muneer readily accepted.
At that point, The Independent was, literally, an underground operation. Only fifteen writers would report to the monthly meetings in South's basement newspaper office.
Even in this concealed setting, it only took Muneer one semester to fall in love with journalism. And soon enough, she was looking for more involvement. After being interviewed as a rising sophomore, Muneer was selected as the Section Editor of the Lenses section, which she eventually renamed Opinions.
"Editing was what spoke to me," Muneer professed. "I love crafting my own pieces, [but I especially] love giving feedback for other people's pieces."
Perhaps that passion is what brought Muneer such success, because she was soon named The Independent's Editor in Chief, working alongside fellow junior Felicity Abbott.
From renaming the sections to revamping The Independent's website, Muneer and Abbott left no stone unturned. "We saw every single thing we could do and we did it," Muneer commented. The pair's work certainly paid off, since the newspaper's staff had tripled in size by the end of their junior year.
"We have a paper that's completely different than it was my freshman year, and I'm so glad that I was a part of that change," Muneer admitted.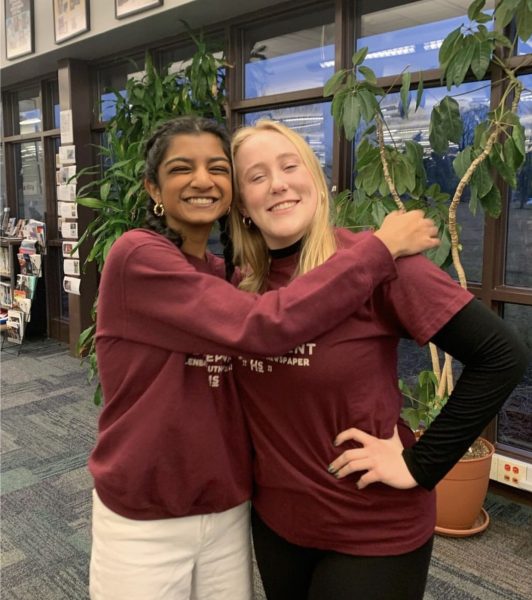 Muneer's peers and mentors understand exactly why she has been able to accomplish so much. "Her enthusiasm for journalism is palpable," explained Ms. Rochford, a club sponsor of The Independent. "Other students pick up on this and want to be a part of this community."
Rochford cannot wait to read Muneer's future work, and she is hardly the only one. In her wake, Muneer leaves a tight-knit community of writers who will surely take after her example. "I have met my best friends in this club," she attested.
"I love how we are all very similar, because the core thing that we all love is writing and sharing stories," Muneer gushed. She believes that, beyond a basic sense of duty to their organization, the newspaper staff is united by a genuine journalistic drive and a strong sense of camaraderie. "We all have the exact same purpose, and that brings us together."
"I joined the paper to become a better writer myself and to fall back in love with [writing]," Muneer said, reflecting on her journey from a writer to Editor in Chief. "I stayed because I wanted to do the same for other people. I wanted to give back to a younger version of myself that wanted the same things." In this sense, Muneer's continued career in journalism pays a personal tribute to her inner child, the bookworm longing to tell her own stories.
After three and a half years of steadfast commitment, leaving the newspaper behind is no easy task. "I feel bittersweet, but I know that I did all I could to make this the best paper it could be," Muneer confessed. "I made my freshman self very proud."
This fall, Muneer starts her freshman year at Boston University, pursuing a dual degree in journalism and psychology. Eager to apply her expertise from South to a new campus, she looks forward to writing for the university's newspaper, The Daily Free Press.
Although she is proud of how far she has come, Muneer has new dreams to chase. An activist at heart, she recognizes journalism as a valuable asset for change. Speaking on the growing significance of reporting in today's tumultuous, ever-changing society, Muneer attested, "Journalism is so important because it is meant to uplift voices that otherwise would not be heard."
Forever a storyteller, Muneer has made a name for herself far and wide. In 2022, Muneer was named Illinois' Free Spirit Scholar by the Al Neuharth Free Spirit Journalism Conference. Paying tribute to Alan Neuharth, the late founder of USA Today, this conference offers one young journalist per state the chance to hear from revolutionary journalists in Washington, D.C.
No stranger to narrative writing either, Muneer competed in the Upstate Eight Literary Festival in April. After reviewing hundreds of entries, Lit Fest chooses only a handful of pieces to represent the very best of Illinois' written work. Muneer herself caught the judges' eyes with two personal essays, earning honorable mentions for both. One discussed her love for reading spurring her into the writer she is today while the other examined her journey through grief while driving her late grandfather's car.
Muneer has always wanted to make something of her words, and it is certain that she will always have a loyal readership from South students. Regarded by her peers as the embodiment of sunshine, she has clearly made an impression.
I, for one, had the honor of meeting Sana during my freshman year, but she had been around for much longer than that. As my family first settled into Glen Ellyn, she was probably cooped up in her bedroom, only a block away, obsessing over The Boxcar Children or Harry Potter. A few years later, I would have read all the same books. Reflecting on it now, I want to say that I loved them as much as she did, but I hardly think that to be possible. No one adores a good story more than Sana Muneer, after all. As she steps into her next chapter now, I remain even more certain that no one ever will.