Why I Thrift (And You Should Too!)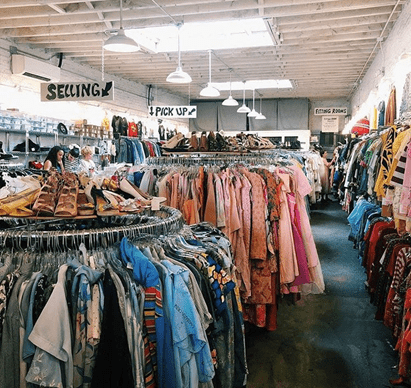 If you were to ask me where I bought any piece of clothing in my closet, there is a 99% chance that I would say that I thrifted it. I've thrifted ever since I was little, and now I even work at a thrift store (Stars Resale in Wheaton! Shameless plug 😁). 
Thrifting is something that has grown in popularity recently, a far cry from its negative connotation in the past. It is now seen as an activity, and has been popularized through the support of social media influencers such as Emma Chamberlain. I believe you should shop at thrift stores, because they have unique pieces, the prices are unbeatable and it is good for the environment. 
Thrift stores are the best places to find the most unique clothing pieces. You can get styles from the 90s, early 2000s, and sometimes all the way back to the 70s. They offer diversity to your wardrobe and broaden your fashion horizons. Or, you can also find staple pieces there, such as a good pair of jeans or a black dress. Thrift stores can give you clothing essentials with possibly a more eccentric twist that you wouldn't be able to find elsewhere. 
Another benefit of thrifting is that the prices are astonishing. People at garage sales sell Gucci purses for $6 or never before worn vintage Jordan's for 1/10th of the price anywhere else. Thrift stores allow you to experiment with style, all while working on a budget. But it's not just clothing! You can also find furniture, shoes, books, vinyls, and more; all at affordable prices. 
Thrifting is important because it is good for the environment. According to Green and Prosperous, a blog about how to live more sustainably, thrift shopping "lowers your carbon footprint… and aids water preservation." Thrift shopping accomplishes these things, because when you are buying second hand over fast fashion, you are stopping the suppliers of these stores from having to produce your clothing. For instance, it takes about 5,300 gallons of water to produce only one kilogram of cotton. By buying clothing that already exists, you are cutting out the middleman (the manufacturer) and saving water and lessening greenhouse emissions.
All in all, there really is no downside to thrift shopping. It is good for the environment, your wallet, and your closet. Choosing to thrift over going to a typical retailer is a better choice, as you are offered more variety in a thrift store and are challenging yourself to push your style boundaries. 
Thrift Stores I Like!
Stars Resale Shop: 1072 College Ave. Wheaton, IL 60187
Plato's Closet: 158 Roosevelt Rd, Villa Park, IL 60181
Twice Is Nice: 893 E Geneva Rd, Carol Stream, IL 60188
Goodwill: Danada Square W, Wheaton, IL 60189
Purple Manatee Resale Shop: 241 W St Charles Rd, Lombard, IL 60148