The Lovely Lizzie Steele
"Right when that curtain opens," said Steele, "is pure magic." Lizzie Steele is the Student Technical Director in Glenbard South High School's theater department. She has been a part of the build and paint crew, lights and sound crew and run crew since her freshman year. Starting in eight grade, Steele has worked on countless shows. 
Steele became involved with theatre in a rather unremarkable way, she followed where her friends were going and joined The Phantom Tollbooth at Glen Crest Middle School. Though this middle school extracurricular began with social motivation Steele ended up finding a passion for theatre all on her own. Steele just finished her most recent production,  the musical Anastasia. Steele hopes to continue with theatre in college and beyond.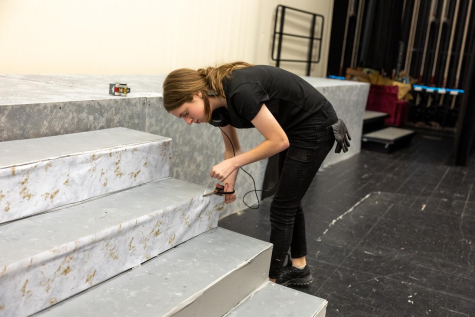 Out of the years of theatre and numerous productions on Steele's resume her favorite production was this year's play, When She Had Wings because of the challenges it posed. "It was a lot different tech wise and acting wise then anything we've done before," said Steele. The whole company had to portray things on stage that are happening inside the mind of a child. There were many locations that had to be shown while staying in someone's backyard. 
She also went to All-State for theater this year, the first year since the pandemic. Steele helped to produce Shrek: The Musical with a few other members of the company. 
"Theater takes you to another world and creating that is just magic," said Steele. When asked about what advice she has for underclassmen who are finding what they are passionate about, she says, "Just enjoy it… sit back and enjoy every moment".