These Violent Delights & Our Violent Ends
Are you interested in reading a gripping Romeo and Juliet retelling set in Shanghai, China? If so, 'These Violent Delights' by Chloe Gong is the perfect novel for you to get lost in.
These Violent Delights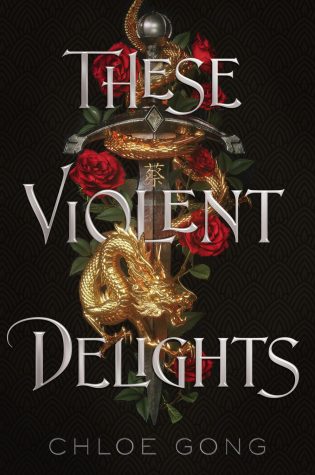 This amazing book was released in November of 2020 and is an imaginative retelling of Romeo and Juliet, taking place in Shanghai  in 1926.
Eighteen-year-old Juliette Cai has returned to assume her role as the proud heir of the Scarlet Gang, a network of criminals far above the
law. Their only rivals for power are the White Flowers, who have fought the Scarlets for generations. Behind every move is their heir, Roma Montagov, Juliette's first love and first betrayal.
When gangsters on both sides start to show signs of illness beginning with clawing their own throats out, the people start to whisper of a horrible monster lurking in the shadows.
As the deaths begin to stack up, Juliette and Roma must set their grudges and guns aside to work together, because if they can't stop this mayhem, then there will be no city left for either gang to rule.
Content Warning: This book contains blood, violence, gore, character deaths, murder and weapon use.  I would recommend this book for those aged 14 and up.
Our Violent Ends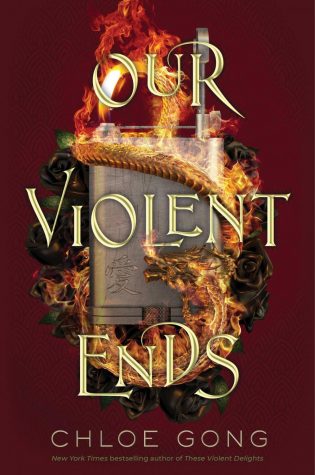 In the sequel released on November 19, 2021,  a new monstrous danger emerges in the city. Though secrets keep them apart, Juliette must secure Roma's cooperation again if they are to end this threat once and for all. 
Shanghai is already at a boiling point. The Nationalists are marching in, whispers of a civil war brew louder every day and gangster rule faces complete annihilation. 
Roma and Juliette must put aside their differences once again to combat monsters and politics, but they aren't prepared for the biggest threat of all- protecting their hearts from each other.
Content Warning: This book contains blood, violence, gore, character deaths, murder, weapon use and abuse. I recommend this book to those aged 14 and up.
My Book Review
If you thought 'These Violent Delights' was incredible, then 'Our Violent Ends' will blow your mind.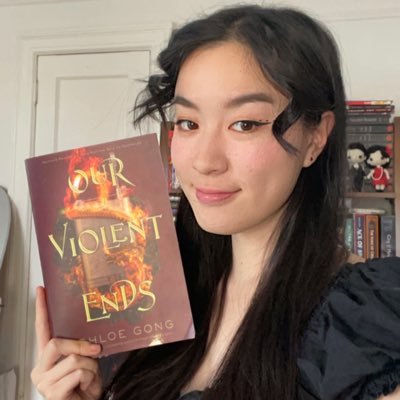 Author Chloe Gong took aspects of Shakespeare's 'Romeo and Juliet' and transformed them into something completely her own. 
From the beginning of both books, Gong grabs your attention with vivid, gory descriptions and a fast paced plot. 
A specific aspect that stood out to me from this book duology was the mix of different genres within the two books. There is mystery, romance and historical fiction, with elements of fantasy sprinkled in as well. In my opinion, this made both the characters and the plotline more compelling and unique.
I was absolutely awestruck by Gong's intricate writing style. The descriptions of the settings of the novel were written beautifully, giving the readers vivid imagery of gang-run Shanghai and detailed information about the complex characters.
Watching Juliette and Roma venture to uncover the mystery of the horrific monster in order to save their city is already gripping, but this book's duology is also armed with the intriguing nature of the Cai and Montagov family's blood feud. I felt like I was actually sucked into the novel while reading it, and genuinely could not put it down. 
This book reminded me that in the end, daring to love is the bravest thing someone could ever do. I can't wait for everyone to read this masterpiece. 
About the Author
Chloe Gong is only 22 years old, and is already a New York Times bestselling author! 
She was born in Shanghai, China, raised in New Zealand and is currently living in New York. Gong has been a book lover since she was a child and started writing her own novels at 13 years old to keep herself entertained. As a recent graduate of the University of Pennsylvania, she double majored in English and International Relations.
Her debut novel, 'These Violent Delights'  was released in 2020, and was an instant bestseller.
In her GoodReads review of her book https://www.goodreads.com/review/show/3239410651, Gong wrote, "'These Violent Delights' is my love letter to Shanghai, to Shakespeare and to my younger self, who so desperately wanted to find an adventure on the shelves starring someone with a face like hers. This book is also my mission as an English major to take a classic that we so dearly love and revamp it: in a new culture, with queer representation, and as a brutal takedown of colonialism-without losing its core themes about love, hate, and loyalty."
Chloe Gong can be found on Twitter, Instagram and TikTok at the username @thechloegong.