Dance Team Senior Spotlight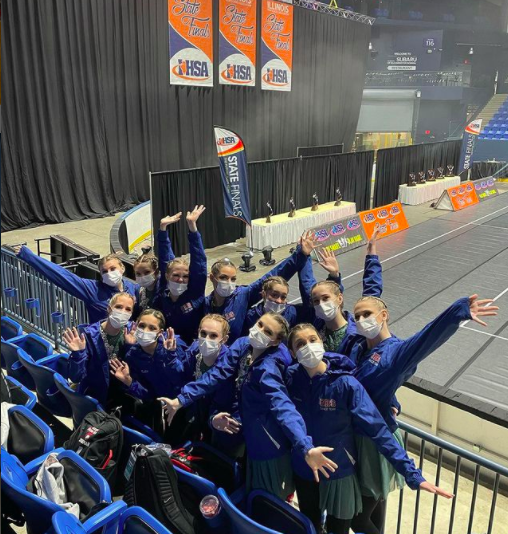 As the historical competition season of Glenbard South dance comes to a close, reflecting on our school's iconic team is crucial.
The incredible varsity dance team made school history this year by placing in the top 12 in the Preliminaries and advancing to day 2 at the State competition.
The four seniors on the varsity dance team are Claire Pohlman, Sara Noak, Taylor Trioce, and Keira Salt, and I conducted interviews with each of them, focusing on their dancing experience at South and their future plans.
Claire Pohlman
1. What was your favorite part of this dance season?
"My favorite part of this season was definitely when we qualified for day 2 at state because it was our ultimate goal for the season and reaching it was amazing."
2. Did you have a favorite routine?
"My favorite routine was 'Wonderful' because it was so unlike any other routine we had done before and incorporated a lot of fun skills."
3. Which year of dance was your favorite and why?
"Senior year was DEFINITELY my favorite year. The team was always so positive and we worked together great. We also had so much fun and together we made it farther than any other year in the program."
4. What is advice you'd give to anyone interested in joining dance?
" I would say to try it out even if you're scared because it's such a great community and I've learned so much from being on this team. Just come ready to step out of your comfort zone and to try new skills!"
5. What are your college/future plans?
"My future plans are to attend a four-year university and to major in Business Information Systems."
6. Do you plan on dancing in the future?
"I plan on doing maybe a club or intramural dance, I definitely want to continue somehow!"
Sara Noak
What was your favorite part of this dance season?
"My favorite part of the season (which I am sure is going to be a common answer) was definitely the week leading up to and including state!! It was so amazing and rewarding being able to make it to state my senior year, and even better make it to the finals! I am unbelievably proud of the team and thankful that everyone worked as hard as they did in order to finish off the season with this amount of success."
Did you have a favorite routine?
"This year we had two routines and my favorite was definitely "It's Time" (the one we made it to state with!)"
Which year of dance was your favorite and why?
"Either freshman year or senior year! Freshman year was amazing because I was new on the team, so everything was fresh and exciting, which made qualifying for state in 2019 that much more incredible. Senior year was amazing because it was our last year of everything! We also had an amazing team bond, unlike any other season where we constantly supported each other, held each other accountable, and also had an insane amount of fun! Making it to day 2 of state with this incredible team was the best way to end my four years in this program, and I wouldn't want it any different."
What is advice you'd give to anyone who is interested in joining the dance team?
"Make sure that your attitude and work ethic is just as "in shape" as you are physically. Having amazing skills can only get you so far, but being coachable and a respectful teammate is something even more important."
What are your college/future plans?
"I plan on majoring in nursing at either Clemson University or Miami University."
Do you plan on dancing in the future?
"No, I have been dancing for the past 8-9 years and have decided it's time to close that chapter of my life on a high note."
Taylor Tricoce
What was your favorite part of this dance season?
"(My favorite part of this dance season was) going to state, and competition days."
Did you have a favorite routine?
"I loved both of our routines this year!"
Which year of dance was your favorite and why?
"Sophomore year and senior year. Sophmore year was my first year on the team and it was so fun being involved at school. Senior year has been so fun soaking up the last moments with the team and being able to go to state."
What is advice you'd give to anyone who is interested in joining the dance team?
"Joining the dance team was definitely the best decision I've ever made. I have made so many new friends that have become my family and being a part of something in school has been amazing. So my advice would be to believe in yourself and be willing to work hard, learn, and grow individually and as a team and you will have a great experience."
What are your college/future plans?
"I plan on attending a four year university and double majoring in Education and Dance."
Do you plan on dancing in the future?
"I plan on majoring in Dance."
.
Keira Salt
1. What was your favorite part of this dance season?
"My favorite part of dance this season has to state, it was an amazing feeling dancing on the first day and literally mind-blowing that we made it to the second day for the first time in school history."
2. Did you have a favorite routine?
"Yes, we had two routines this year and my favorite was probably "Its Time" (by Imagine Dragons) because that's the one we took to state, but also because it was such a happy song with upbeat choreography. It was just so much fun to dance to!"
3. Which year of dance was your favorite and why?
"Senior year has definitely been my favorite out of the four. My team is so close and we all love each other so much that it made the entire season so much fun. Also, because last year was so weird, having a normal football and competition season just made it so much better after that year."
4. What is advice you'd give to anyone interested in joining dance?
"My advice would be to go for it. Whether you make JV or varsity, the entire dance team is so much fun to be a part of. You get to make so many new friends and being on the sides of football games and competing is the best experience ever. Also, joining would mean you have two amazing coaches that always support you and make the experience so much better."
5. What are your college/future plans?
" I'm currently undecided but my top two are Marquette and Butler. I plan on majoring in psychology and I'm looking into a minor in political science."
6. Do you plan on dancing in the future?
"No matter which of the two schools I go to though, I will be trying out for the dance team so I can continue to do this amazing sport."
Coach's Reflections – Coach Haley Kruis and Megh
What was your favorite moment this season?
"There were so many surreal moments this season, but the one that sticks out the most was when we qualified for day 2 of state. We were all in utter shock when our name was called. At that moment we knew all of our hard work and sacrifices were worth it!"
What were you most proud of the seniors for? Was there a specific experience of time?
"I couldn't be more proud of our seniors and how they led the team this season. Every day they proved their dedication and passion for our team. They understood the expectations and always led by example. They are truly an extraordinary group."
Do you have any advice for individuals interested in joining the dance team?
"Best piece of advice for anyone interested in joining is to come in with an open mind and strong work ethic. As long as you're willing to work hard to improve, you will have no problem being on our team! We look for members that we are confident will continue to push themselves throughout the season. Everyone has room to grow!"