A Reader's Thoughts on 'Harry Potter 20th Anniversary: Return to Hogwarts'
2022 will be a magical year, as it is the 20th anniversary of the beloved classic movie, 'Harry Potter and the Sorcerer's Stone'. 
In honor of the anniversary, members from all eight Harry Potter films, including stars Daniel Radcliffe (Harry Potter), Rupert Grint (Ron Weasley) and Emma Watson (Hermione Granger), will reunite for the first time in two decades in an HBO Max special. 
Other notable alumni of the iconic films joining the special include Helena Bonham Carter (Bellatrix Lestrange), Gary Oldman (Sirius Black), Tom Felton (Draco Malfoy), Matthew Lewis (Neville Longbottom), Evanna Lynch (Luna Lovegood), and James and Oliver Phelps (Fred and George Weasley). 
'Harry Potter 20th Anniversary: Return to Hogwarts' will arrive on HBO Max on January 1, 2022. 
My Thoughts
I am a diehard Harry Potter fan and prepared for the anticipated release of this film by lounging on the couch and sipping hot chocolate with my cousins, all of us wearing matching Harry Potter pajamas. 
As the iconic John Williams opening score to the wizarding world played when the special started, I was immediately transported back to my childhood and overtaken with nostalgia. 
I loved how the film started, focusing on the main actors' opening letters with their name, a detailed Hogwarts wax seal and their exact location, meant to invite them to the reunion. I appreciated this aspect of the film, as it mirrored how Hogwarts students were invited to attend the wizardry school on their 11th birthday. 
Throughout the entirety of the special, all of the actors were laughing, crying and catching up, and it seemed like no time had passed at all. I lost count of how many times some of them fondly mentioned that the Harry Potter cast was like family.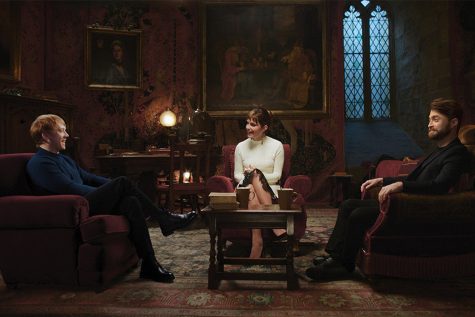 My favorite parts of this film were the cozy, reminiscent conversations between the 'Golden Trio', Daniel Radcliffe, Rupert Grint and Emma Watson, taking place in the Gryffindor Common Room. The three dove back into their time on set of the Harry Potter films, and chatted about the good, the bad and everything in between. 
Viewers will hear about the actor's audition processes as kids, the innocent, preteen on set crushes, how Evanna Lynch went from a hopeful Harry Potter fan to starring as Luna Lovegood, the loneliness some of the actors felt as kids in the spotlight, the awkwardness surrounding Hermione and Ron's kiss scene in the final movie and why Emma Watson contemplated leaving during the fifth Potter film. 
'Harry Potter 20th Anniversary: Return to Hogwarts' was the perfect, mystical start to 2022 and will delight bookworms and Harry Potter fans everywhere. 
As said in the incredible game of Quidditch, 10 points to HBO Max!