Leaping Through the Season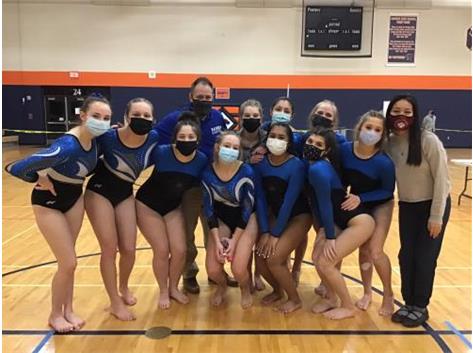 As 2022 starts off strong, the Glenbard South gymnastics team continues to get stronger. While dancing on the floor and dismounting off the beam, the team has to balance the struggles and triumphs of competing with Covid-19 on the rise. But this group does not allow the ongoing pandemic ruin their season; it only makes them better.
Gymnastics is composed of many different events, ranging from balance beam to floor to bars. Different gymnasts have different opinions on what event is their favorite, as sometimes they are stronger on one than others.
When Senior Amanda Keil was asked, "What is your favorite event?".
Keil responded, "Floor."
The floor event consists of choreography that is performed to music. There are many leaps, turns, and tumbling packed into the short routine.
While there are many fun aspects of gymnastics, there are also challenges, as in every sport. These challenges can be physical, mental, or anything in between, but every athlete has them. But challenges can shape athletes, as shown by junior Alina Dukala's response to the question, "How have you changed since you first began doing gymnastics?"
"I've been so much more in shape…I feel so much more in control and I feel much more powerful", Dukala answered.
One of the most important aspects of this sport is being in control of your body, so Dukala hit it on the dot.
As has every other sport, gymnastics has also been affected by the continuing Covid-19 pandemic. Practices and meets are more strict about masks and distance, as seen by both Keil's and Dukala's responses to a few Covid related questions.
"Just to keep your masks up unless performing", Dukala said when questioned about protocols.
"We had a few meets canceled due to other team's covid situations", Keil stated.
Participating in gymnastics is not an easy feat, but adding a pandemic on top of that? It can sure be a lot for the athletes.
Glenbard South is full of support for their gymnastics team, and offer good luck to the group as their season pushes forward!