Getcha Head in the Game!
The Glenbard South Girls Varsity basketball team are just over halfway through their season, and have gotten into the groove of things after a tough first half full of injuries, Covid-19 protocols, and other complications that the teammates have persevered through. Currently placed 4th in conference with a conference record of 8-6, head coach Eric Daca and the captains, senior Brittney Miller, and juniors Cammy Kucaba and Mia Lake, have gotten the team ready to finish the season strong.
The Raiders recently faced East Aurora for the second time this season, and came out with a big win. Freshman Brooklynn Moore dominated the boards with seven rebounds and Allie Mizwicki, a sophomore, was on fire scoring a total of fourteen points, six of which came from behind the three-point line. The win could not have happened if not for the ruthless defense which the Raiders played. Between senior Emily Frieling's three steals and Kucaba's two blocks, the Tomcats struggled putting an offense together, which ended up being the final straw that led to their defeat.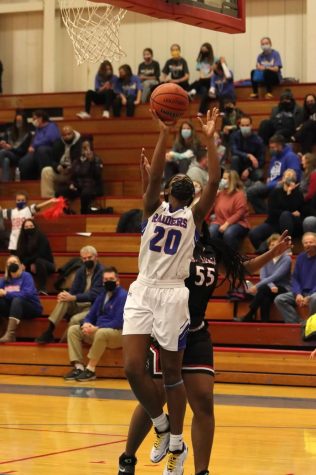 Part of the reason the Raider girls have been on such a hot streak lately is due to the team chemistry that has been developing throughout the season. The tight-knit bonds off the court carry into the game and help create a unified offense, resulting in points and wins, regardless of the opponent at hand.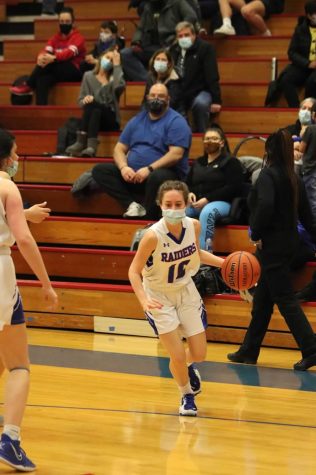 "One of the best things about this team is that everyone is super supportive," said Frieling, "we focus on each other's successes and try to build each other up. Everyone always works hard when they're on the court, which brings a really good balance of fun and competitiveness."
Mizwicki recalls her favorite memory of the season so far being the Christmas team dinner, "I really enjoyed hanging out with everyone outside of basketball and I feel like we really got closer as a team. We did a secret santa and it was super fun watching everyone open their gifts. We even facetimed Mia who couldn't be there because of her injury."
If you want to stay updated on this team and the rest of the program, follow @glenbardsouthgbb on Instagram for reminders of home games and other fun posts about the season.
The next home game, Tuesday, February 1st, is against the Streamwood Sabers and should be a great game. Make sure you stop by at 7pm to support the team and watch as they crush Streamwood for the second time this season! #SaberK