The Life of Joan Didion
Joan Didion, an acclaimed American literary journalist and writer, is most recognized for her poignant and brilliantly polished prose. As a pioneer in the New Journalism movement in the 1970s (along with Truman Capote and Hunter S. Thompson), she led the way in contemporary American politics and culture. Some of her notable works, Play It As It Lays, The Year of Magical Thinking and Blue Nights are regarded as influential pieces of literature for young readers, writers, journalists and people alike. During the span of her inventive career, Didion published dozens of essays, articles, novels and screenplays, all of which are highly regarded and remain relevant in our world today. On the day of December 23, 2021, Joan Didion passed away in New York City, New York due to complications from Parkinson's Disease. Many are deeply saddened by the death of such a prolific figure in American history. In Didion's autobiographical essay, "The White Album", the first line goes, "We tell ourselves stories in order to live," and she accomplished exactly that: she created more vivacious and rich lives for her readers and fans.
Early Life and Career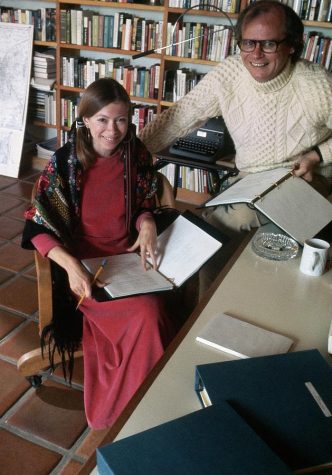 Before entering her lifelong career in writing and journalism, Didion graduated from the University of California, Berkeley, and immediately was employed for Vogue magazine from 1956 to 1963, where she worked as a copywriter and editor. During this time was when she wrote her first novel, Run River. It was not this work that gained her recognition and reputation, however. A few years later, she published Slouching Toward Bethlehem, a collection of essays surrounding Didion's living experiences in California during the 1960s. It was also during this time that she met writer John Gregory Dunne; the two quickly tied the knot in 1964.
Grappling with Grief
Didion's heartrending subject matter often focused on grief, death and the human reaction, as a result of her personal experiences with loss. In 2003, Didion's husband passed away from cardiac arrest, while her daughter was hospitalized, recovering from septic shock. While dealing with this, Joan Didion wrote: "The Year of Magical Thinking" (2005), a raw account of the years following her husband's death, and her attempt of making sense of the grief and sorrow that overtook her life.
Accolades and Adaptations
Throughout Didion's impressive career, she earned many highly-regarded awards. One of which was the National Humanities Medal for her memoir The Year of Magical Thinking, awarded by former President Obama in 2013. According to CNN, Obama called her "one of our sharpest and most respected observers of American politics and culture." In addition to these many accolades, there are an abundance of documentaries and works of literature dedicated to Joan Didion. In particular, the highly-rated Netflix documentary directed by her nephew, titled "Joan Didion: The Center Will Not Hold" is a fantastic reflection of Didion's career and personal struggles.
As a lasting piece of inspiration, Didion wrote, "We are imperfect mortal beings, aware of that mortality even as we push it away, so wired that when we mourn our losses we also mourn, for better or for worse, ourselves. As we were. As we are no longer. As we will one day not be at all."
Sources 
https://www.cnn.com/style/article/joan-didion-death-obituary/index.html
https://www.washingtonpost.com/media/2021/12/23/joan-didion-appreciation/
https://www.britannica.com/biography/Joan-Didion