'One of Us Is Lying'
Everyone has secrets, especially the students at Bayview High. But how far are they willing to go to keep them?
Author Karen McManus specializes in teenage murder. Her very first book, "One of Us Is Lying," earned a spot on the New York Times Bestsellers list for six weeks. Any bookworm who hasn't been living under a rock for the past five years knows this beloved story of murder, secrecy and scandal. Understandably, when news of a TV show adaptation came out the public was very excited.
Goody-two-shoes Bronwyn, golden boy Cooper, "it" girl Addy and certified bad boy Nate did not plan to be spending their first day of senior year in detention. They definitely did not expect becoming murder suspects that very same day. These four high school cliches are joined by their mysterious classmate Simon (Mark McKenna), who happens to run a gossip blog where he exposes his peers' darkest secrets. Sure, the student body has plenty of reasons to hate him, but not enough to kill him, right? 
When he leaves detention in a body bag, all sense of normalcy crumbles, especially for his four detention buddies, now considered suspects in a homicide case. Things only get more complicated as the police uncover that Simon was one click away from publishing life-ruining gossip about all of them. Not only do these teenage stereotypes now have definite motives, but enough secrets to ruin them. 
Bronwyn (Marianly Tejada) has wanted to go to Yale for as long as she can remember, and Simon, next in line for valedictorian, only ever got in her way. Cooper (Chibuikem Uche) knows the Major League wants to see perfection, and that means keeping certain people quiet. Addy (Annalisa Cochrane) has it all, including the perfect boyfriend, but that can only continue if he remains blissfully unaware of what she did last summer. Nate (Cooper van Grootel) is no stranger to illegal activities, so it goes without saying that he has plenty to hide. Better yet, what if they all worked together? Conspiracy theories run rampant as the national media takes hold of the sensational story. 
Now, it is up to the suspected murderers themselves to decide if they will work together to uncover the truth or if their secrets will destroy them first.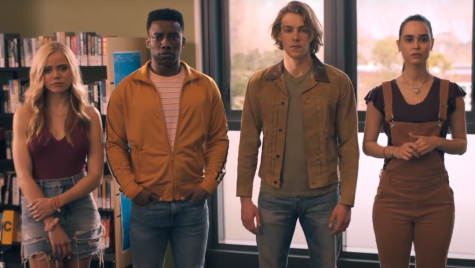 McManus's clever plots, especially that of "One of Us Is Lying," hooks the audience with merely a glance at the title. Nevertheless, her books have proven time and time again to be promising in theory yet ultimately unsatisfying by the time the last page is flipped. While the story appears promising at first, it makes promises it cannot keep. Still, when I caught wind of the Peacock rendition of the bestseller, I was intrigued despite myself. This author's writing always benefits from an unmistakable allure that draws me in every time, expectations high, no matter how much I might regret it in the end.
Frequent plot twists make this story a faced-paced thriller, but this is an adventure that viewers may fall behind in. The show is written in a manner that excludes the audience, not allowing them to piece together the mystery on their own whatsoever. For anyone looking to play detective, this show will disappoint. The show relies on convenient and annoyingly recurring flashbacks to reveal many key plot points. In this way, the TV series loses the all-encompassing excitement that the novel so skillfully maintains.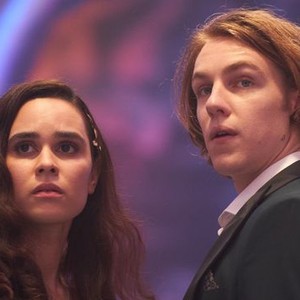 Fans of the book may be disappointed by unnecessary changes to the plot. Entire characters were disregarded while others were modified to an extent where they were almost unrecognizable in comparison with their original selves. Presumably, these adjustments were made to aid the flow of the plot, but all they succeed in doing is upsetting dedicated readers.
The cinematography was strictly either a hit or miss throughout the eight episodes. At times, the camera work was disappointing. Occasional shots of breathtaking scenery paired with whimsical music felt inappropriate while the characters had just seen someone drop dead. In other scenes, however, the up-close angles allowed the audience time to notice every detail in the actor's intricate expressions. This amplified a sense of widespread suspicion that shrouded every character in mystery. It's safe to say the audience never knows what to expect. Viewers should prepare to have an extensive and distinct list of suspects until the very end.
Casting was definitely a highlight of the show. Although some of the actors are objectively too old to be playing high schoolers, they capture a classic take on teen angst. Even so, casting is not everything, and even the best actors cannot save their characters from an unsavory portrayal. While the novel allocated enough time for meaningful character development, this series tunes in on the mystery much more than necessary. In fact, there is barely any time for viewers to get to know the characters as anything more than a bland cliche since they remain one-dimensional throughout the season. This makes the overall viewing experience a bit awkward, as the show urges the audience to root for people they don't know.
"One of Us Is Lying" is not a bad show, but it is simply too cookie-cutter to enjoy whole-heartedly. It collapses in the face of the slightest analysis and is unremarkable altogether. The jury is still out as the first season is undeniably set up for a second. At the end of the day, only time will tell whether or not this show makes the cut.