All About Best Buddies
Maya Page, School News Editor
November 23, 2021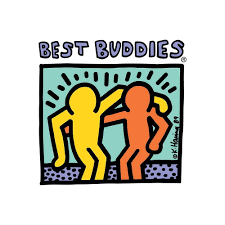 The 2021-22 school year marks the 15th year of Glenbard South's very own chapter of the Best Buddies program. According to the official Best Buddies website, Best Buddies is an international nonprofit organization dedicated to empowering and providing opportunities to people living with intellectual and developmental disabilities. The Glenbard South chapter of Best Buddies is focused on forming connections between students with intellectual and developmental disabilities and students without these disabilities. 

A Bit of Background on Best Buddies
Mr. Douglas, the organization's sponsor, formed the Glenbard South chapter of Best Buddies in 2007. Douglas had been involved in the organization at his college and was in his second year of teaching at Glenbard South when he decided to start it. He noticed that South had a large population of students with intellectual disabilities and felt that the program was needed in the community.

Being a Buddy 
Madelyn Baygood, a current senior, is the current president of Best Buddies at Glenbard South. Baygood began participating in the program during middle school. "I love the Best Buddies mission of forming friendships and spreading inclusion, so I really wanted to be a part of it in high school," says Baygood. 
Members of Best Buddies can choose to participate in the organization either as peers or associates. Peers are placed in a one-to-one friendship known as a 'buddy pair' with a student who has a disability. Associate members are not paired with a student, however, they attend themed events held by the organization each month. 
Members of Best Buddies will attend chapter meetings that prepare for these monthly events and -of course- be at the events themselves. 
This month, the event will be Friendsgiving, which took place on Thursday, November 18th. 
According to Baygood, at the event members will "share what [they are] thankful for, play board games, and have a Friendsgiving potluck." Friendsgiving is Baygood's favorite event of the year. "It's nice to just hang out and eat good food with everyone. Friendship is what Best Buddies is all about, so it's great to dedicate some time to appreciating everyone as well," she explains. 

The Best Part of Best Buddies 
Best Buddies is an amazing opportunity offered at South for students to form long-lasting friendships with peers unlike themselves.
 "The purpose of Best Buddies is to foster connections between students with intellectual disabilities and their regular education peers and to build that relationship in and outside of school," states Douglas. He adds that some of the friendships made in Best Buddies have lasted years past high school and that many students involved in the organization have gone on to pursue careers in special education or advocate for the disabled community.  
Says Baygood, "What I really enjoy about Best Buddies is how positive and fun every event is. Everyone's always smiling and friendly, which makes for a super fun environment. Our events are always the highlight of my day."
Students interested in participating in an organization where they can meet new people, build long-lasting friendships, and have fun will find great enjoyment in Best Buddies. 
If you would like to learn more about Best Buddies or are interested in joining, please contact Mr. Douglas at [email protected].
Give a follow to the GBS Best Buddies Instagram, @gbs_best_buddies!