Model UN: The Club for Future Leaders
Maya Page, School News Editor
November 23, 2021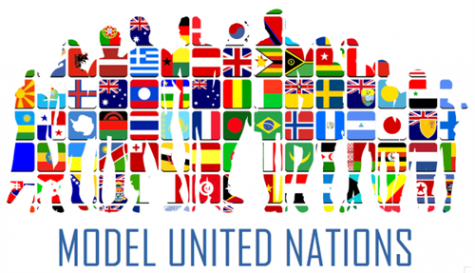 Every day, delegates and world leaders discuss and develop solutions to issues faced by the nations they govern. Within the walls of Glenbard South, students who are interested in one day becoming these leaders can take their first steps in doing so by participating in Model UN, a mock version of the real-world United Nations. Mr. Rodriguez, the sponsor of the organization, notes that Model UN is open to any student who is interested in learning about and discussing current events and world issues.  
Participating in Model UN 
Each student in Model UN, otherwise known as a delegate, chooses a member country of the real United Nations to represent or a position in another legislative committee. A delegate will receive background information on pre-selected topics to be discussed in committees at monthly events. These topics range from poverty and clean water supply to gender equality and environmental protection. Not all topics have to be serious. Rodriguez mentions that there have been past committees focused on films such as Lord Of the Rings. 
Every Thursday before school, the student delegates meet to research the role they have chosen to represent as well as their role's viewpoint regarding the selected topics. In these weekly meetings, delegates work to formulate a report including their role's stance on the topics and a proposal of solutions to topic-related issues. 
Senior Kevin Pinkelman, vice president of Model UN, explained, "We have a competition coming up pretty soon and for that competition, I will be working as an Alderman in the Chicago City Council. To prepare, I am researching issues which currently exist in Chicago and the steps that different Aldermen have taken to tackle these issues."
The Events 
Each month, delegates travel to another high school and converge with local high school delegates to participate in a Model UN event. If members are unable to attend an event, they are still encouraged to come to meetings to assist other members in preparing their material for the event. The next Model UN event will be held in December at Walter Payton College Prep located in Chicago. 
At events, high school delegates will be assigned to a certain committee focused on the topics they have researched. Within these committees, delegates, representing their chosen countries or roles, will present the reports they have created regarding the topics. Delegates are able to form sub-groups with other countries that possess similar views regarding the issues being discussed. In these sub-groups, students will come up with a solution to the issue and present it to their entire committee. Each of the solutions created within these sub-groups will then be voted on by the full committee. 
Why Join Model UN?
Participation in Model UN allows students to broaden their knowledge of world issues while gaining crucial life skills. Students in the organization learn how to collaborate and negotiate with others, listen to alternative perspectives and solve complex issues. At Model UN events, students can work on their own communication skills and meet new people. Says Pinkelman, "Working with people from other schools is super enjoyable and most of the time there are funny people at the competitions so it's not hard to find people I get along well with."
Junior Jason Lo, president of Model UN, enjoys participating in the organization because it "allows me to interact with people who are equally passionate about issues I have too in the world today. Lo enjoys "discussing international problems and collaborating to find a possible solution". 
Rodriguez enjoys being a sponsor of Model UN because he gets to watch students learn about, discuss, and conceptualize solutions to world issues. Rodriguez added that the organization is "very technical but also very fun."
Model UN prepares students to become the next generation of changemakers. Students who hope to broaden their knowledge of current events and solve problems to make a positive impact on the world around them will find their place in Model UN. 
Students who would like to join Model UN can contact Mr. Rodriguez, the club sponsor, at [email protected].