Why Phoebe Bridgers should have won a Grammy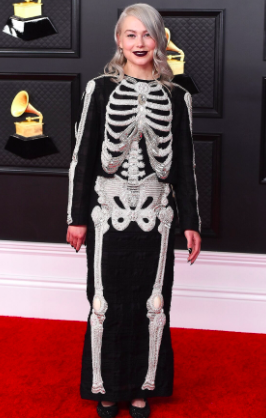 On March 14th, 2021, Los Angeles singer Phoebe Bridgers strutted down the red carpet of the 63rd Annual Grammy Awards with four nominations. 26-year-old Bridgers was nominated for Best New Artist, Best Rock Performance for "Kyoto", Best Rock Song for "Kyoto" and Best Alternative Music Album for Punisher. By the end of the night though, she left the Los Angeles Convention Center with no awards. But why? As great as the other nominations like Fiona Apple's Fetch the Bolt Cutters were, should Bridgers have left with an award?
Punisher, the 40:37 minute long, indie rock album, is Bridger's second studio album after her 2017 debut, Stranger in the Alps. The exploration of themes like depression, self-destruction, numbness, nostalgia and so much more, is what makes this album so incredible. NPR's Taylor Haney admires the lyrics for tackling topics like "missed connections, the tension between the inner and outer self, the lonely ache of watching things end". Part of the creation process can be accredited to the death of Bridger's iconic black pug, Max, who passed away in 2019. The death took a toll on the musician and she noted "going home to an empty apartment was pretty f*cked up". The somber energy of the event is reflected in the album as a whole, which is very often described as "straight-up depressing". This album is so much more than that though, as the lyrics cover so much of the human experience. For example, Lindsay Zoladz of The New York Times observed that Bridgers "weav[es] tiny, specific, time-stamped details (chemtrails, saltines, serotonin) into durable big-tent tapestries of feeling.". Overall, this is a record of growth, as Stranger in the Alps covered trauma, Punisher is about dealing with this pain.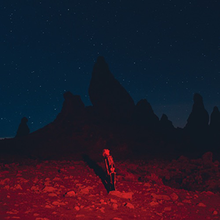 Starting with "DVD Menu", the 1:09 introduction instrumental has no vocals and does an incredible job setting the tone for the album. The instrumentals sound like the music you hear on a DVD player before you press play, hence the title. 
You then flawlessly fade into "Garden Song", which slow and soft vocals perfectly convey the concepts of nostalgia and falling in love. Perhaps one of the best lyrics in this song is "The doctor put her hands over my liver/ She told me my resentment's getting smaller". Could this mean that Phoebe's sense of forgiveness to other people or even herself is improving? Either way, this song really does make you want to kill your neighbor, plant a garden, and fall in love. 
Out of nowhere, you have an incredible change of tone with "Kyoto", track three on the album. The catchiest and most upbeat song on the album's sound most definitely does not correlate with the lyrics. Phoebe herself has described the song as covering topics like dissociation—confusion between surroundings and identity, imposter syndrome, and most clearly, a complicated relationship with her father. Listening to this song can be best described in Bridger's words as, "living outside your body when cool sh*t is happening". 
Next, "Punisher" is about Bridger's musical hero, Elliot Smith. The term "punisher" is used by Phoebe to describe an overenthusiastic fan. In this case, Bridgers believes that she would be "the punisher" if she were to meet Smith, who is now dead. Essentially, the song is a really well-written and beautifully sung piece about Phoebe Bridgers stalking Elliot Smith.
You then flow into "Halloween" which does an incredible job tying together the holiday itself and the overall theme. Focusing on a dying relationship, Bridgers sings about wanting to pretend just for a night, that they do not have any problems. Of course in typical cynical Bridgers fashion, there are lyrics about murders that have taken place at L.A.'s Dodger Stadium, which the musician has a rather uncanny interest in. There are also supporting vocals from Connor Oberst, who with Bridgers created Better Oblivion Community Center, an indie rock duo that released a single debut album in 2019. 
The sixth track on Punisher is "Chinese Satellite". Genius describes the song as "delving into Phoebe's struggles with agnosticism and her lack of faith. She expresses her inner desire to make a leap of faith and become more of a 'believer' and juxtaposes this with her honest opinion that she simply doesn't believe and can't wrap her head around faith". Whenever interviewed about this piece, Bridgers always makes a point to say that she will forever be a believer in waiting for her letter from Hogwarts.
"Moon Song", just like "Savior Complex" and "Graceland Too" on the album, is about giving yourself up for someone else. Fundamentally, "Moon Song" romanticizes a self-loathing lover. Only Phoebe can transport you to such themes through lyrics like "So I will wait for the next time you want me/ Like a dog with a bird at your door". Of course, to tie back to the title of the song, Phoebe sings in the chorus, "And if I could give you the moon/ I would give you the moon". 
Bridgers says to have had written the melody to "Savior Complex" in a dream. The thematic sequel to "Moon Song" continues the theme of the self-hating partner, but now you are in a relationship and got what you wanted. Except, you have a savior complex, and this is your attempt to save your partner by "fixing" their problems. Phoebe represents the chaos and problems through the lyrics, "Wake up and start a big fire/ In our one room apartment". By the end of the song, she is too burnt out and exhausted, as shown though, "But I'm too tired/ To have a pissing contest".
"ICU" the ninth track on the album, was renamed "I See You" when released as a single due to the COVID-19 pandemic, but returned to its original name upon album release. The song is about Phoebe's breakup with Marshall Vore, who ironically has vocals and plays percussion throughout the album and in this song. Lyrics like "If you're a work of art/ I'm standing too close/ I can see the brush strokes" show how spending too much time with a person can embolden their flaws. One of the best lyrics on the entire album has to be "I hate your mom/ I hate it when she opens her mouth/ It's amazing to me how much you can say/ When you don't know what you're talking about". Bridgers told Rolling Stone that this lyric was about getting in a fight with her ex's mom, who is a Trump supporter at Whole Foods.
If there is any song on this record that one should listen to, this might have to be it. Beginning with a country-esque banjo solo, "Graceland Too" definitely has a little bit of a different tone to it than some of the other tunes on Punisher. Phoebe says "This song is about caring for somebody who hates themselves and how that can be really hard. There's also a homage in there to friends in rehab or who are going through a tough time." A crucial part of understanding the song and its lyrics is to know that Phoebe was in Nashville working on this song with friends Julien Baker and Lucy Dacus. The boygenuis bandmates are members of the trio that released a self-titled debut EP back in 2018 and are featured multiple times throughout the album. The title of the song comes from Graceland Too which was a tourist attraction and shrine dedicated to Elvis Presley.
There could not have been a better closing song to such an incredible album as "I Know The End", a 5:44 long masterpiece. Uproxx described the song as, "tracing the burnout of bedroom ennui and toxic relationships to the fleeting euphoria of windows-down doomsday drives, and finishing it all off with a cataclysmic orchestral breakdown" and this has to be the best way to verbalize the experience of listening to this sensation of a song. Covering depression, euphoria, and the apocalypse in what Phoebe explains to be "a big metal song" was the best thing to happen in 2020. The third verse depicts a drive up north through California, as Phoebe pictures in the apocalypse, an endless drive north. "Windows down, scream along/ To some America First rap country song/ A slaughterhouse, an outlet mall/ Slot machines, fear of God/ Windows down, heater on", Phoebe sings as the speed picks up. All of this building up to the most beautiful cathartic scream featuring Phoebe Bridgers, Julien Baker, Lucy Dacus, Marshall Vore, Connor Oberst, Sarah Tomberlin and so many more big names in the alternative music world. The album ends in Bridgers gasping for air and choking. 
The album has undoubtedly received praise from the public and music critics alike. It earned a 90/100 on Metacritic, 8.7/10 from Pitchfork, 5 stars from the Daily Telegraph, and 4.5 stars from AllMusic, just to name a few. As well as comments like "eleven expertly rendered, largely downcast songs about broken faith, desperate, occasionally self-destructive love, and tenuous recovery." from Jonathan Bernstein from Rolling Stone. Another huge accomplishment of the album is positioning itself high up on end of year lists, like #2 on The New York Times' Lindsay Zoladz's Best Albums of 2020, #4 on NPR's The 50 Best Albums of 2020, and #4 on Pitchfork's The 50 Best Albums of 2020.
Even Elton John said in an interview with Bridgers, "Good luck with the Grammys. If you don't win at least one, I'm going to hit someone, OK?".
While most reviews of the album are positive, there are still some like Robert Christgau who said, "If articulated depression is what you crave, does she have lyrical and musical detail for you—philosophical solace or melodic relief, no".
As incredible as the other musicians nominated for the categories of Best New Artist, Best Rock Performance, Best Rock Song, and Best Alternative Music Album, Phoebe Bridgers and Punisher just can not be compared. The talented musician will definitely have more runs for a Grammy, but 2020 should have undoubtedly been her year for one.
Make sure to stream Punisher on all music platforms, like Spotify, Apple Music, and YouTube! If you like it, check out Motion Sickness and some of Bridger's other projects like boygenius. Happy listening 🙂 
Fun facts: 
I listened through the album an ungodly amount of times while writing this article 
Also, my top 3 Punisher songs are Graceland Too, I Know the End and Halloween.