Amazon's Alabama unionization vote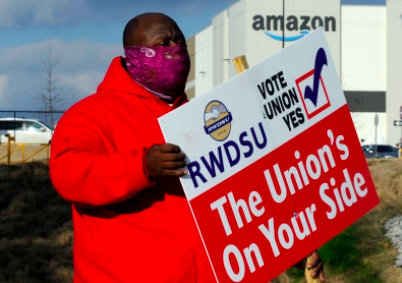 Amazon employees at a Bessemer, Alabama warehouse voted against unionizing the facility's roughly 5,800-person workforce. The workers had until March 29th to decide whether to form Amazon's first unionized warehouse in America.
 A total of 3,215 ballots had been cast by Amazon workers on whether they wanted to join the Retail, Wholesale and Department Store Union (RWDSU). That was about 55% of all the workers at the warehouse who were eligible to vote. Of the ballots cast, 1,798 votes were opposing the union and 738 in favor.
Michael Foster of the Retail, Wholesale and Department Store Union holds a sign Feb. 9, 2021, outside an Amazon facility in Bessemer, Alabama. (AP News Photo/Jay Reeves, File)
The union vote happened at BHM1, a four-story Amazon warehouse the size of 15 football fields located in Bessemer, Alabama. If Amazon workers had unionized, it would have marked a major milestone for worker representation, which has long been in decline. 
Unionizing is crucial because it ensures fair wages, benefits and better working conditions for its members. As U.S. manufacturing has waned, participation in unions has shrunk to about 11% last year. Both sides of the aisle have stood with workers looking to unionize, like President Joe Biden, Independent Senator Bernie Sanders and Republican Senator Marco Rubio, who all have expressed support for the formation of a union in Bessemer.
Additionally, Amazon was criticized for demanding a punishing pace of production and surveilling its workforce too aggressively. At the beginning of the pandemic, Amazon's warehouse employees raised concerns about their safety in its busy facilities, where managers initially did not take enough precautions. But even before the pandemic, the company had faced judgment for lack of adequate bathroom breaks, overheated facilities, and unrealistic performance targets for workers.
Furthermore, the company pushed hard to convince workers to vote against unionization by holding mandatory in-person meetings during worker shifts to stress the upsides of the current work environment and the downsides of unions, sending frequent texts to workers with anti-union messages and encouraging them to vote no, and even posting anti-union flyers on employee bathroom stall doors. 
As a result, Amazon has rejected claims it intimidated Alabama workers during the union vote. The company has continuously said its workers do not need the RWDSU or any union. It has offered Bessemer workers a starting pay of $15.30 an hour, well above the federal minimum wage of $7.25 an hour. That pay, along with health-care, vision and dental benefits and a retirement plan, has offered employees more than comparable jobs provide. 
About a week after the results of the election were known on April 9th, Jeff Bezos, former CEO of Amazon, now executive chairman, mentioned the outcome of the vote in a final letter to shareholders before stepping down. In the letter, he wrote that he did not take comfort in the outcome of the recent vote and that Amazon needed to work on how it creates value for its employees. He proceeded to boast the company's record on wages, climate change action and workplace safety. 
The result of this vote might prompt Biden and other U.S. officials to revisit the laws that give advantages to employers, including the freedom to overwhelm their employees with anti-union messages. Either way, unions will keep on fighting and working on unionizing workforces around the United States.