'Shadow and Bone': New Netflix adaptation
If you are looking for a new, captivating Netflix show to binge, look no further. Shadow and Bone is a gripping book trilogy that is the latest young adult fantasy series to be brought to life on the screen. Books in the "Grishaverse", as nicknamed by the acclaimed author Leigh Bardugo, have sold over 2.5 million copies, have been translated into 38 languages, and are deeply loved by readers all over the world. The Grishaverse is composed of the Shadow and Bone trilogy, the Six of Crows duology and the King of Scars duology. The TV show will be mixing together the plots of Shadow and Bone and Six of Crows.
Shadow and Bone follows Alina Starkov (played by Jessie Mei Li), a seemingly mediocre and drab girl, but during a trip into the daunting Shadow Fold, a place of darkness filled with monsters, her caravan is unexpectedly attacked. As a result, her dormant and unknown magical power of being able to summon light is exposed to the world. Alina is whisked away from everything and everyone she knows to the Little Palace by the myserious Darkling (played by Ben Barnes), whose power is similar to hers. She trains to be a part of the magical elite called the Grisha because her powers could save the country from the looming threat of what lies within the Shadow Fold. Nothing in this lavish world of sorcery and power is actually what it seems. With darkness emerging and an entire kingdom depending on her untamed power, Alina will have to confront the secrets of the Grisha…and the secrets of her heart.
 Meanwhile, the sequel of the Shadow and Bone trilogy, Six of Crows takes place two years after the last book, set in a new country with new characters. 
This compelling novel centers around the notorious criminal prodigy Kaz "Dirtyhands" Brekker (played by Freddy Carter), who is offered the chance of pursuing a deadly heist that could make him rich beyond his wildest dreams. Realizing he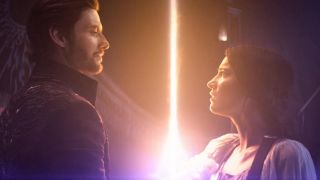 cannot pull it off by himself as the crime turns into much more than it seems, he gathers a crew of five others. The group includes a convict with a thirst for revenge, a sharpshooter who cannot walk away from a gamble, a runaway with a mysterious past, a spy known as the Wraith, and a magical Grisha using her magic to survive the slums. These dangerous outcasts are the only people that may stand between the world and destruction- if they do not kill each other first. 
I absolutely loved both the Shadow and Bone trilogy and the Six of Crows duology, and am now thoroughly obsessed with the Grishaverse and Leigh Bardugo's books. Both of these book series have intricate plots, nonstop action, incredible world building and well crafted conflicts that draw in readers completely. But it is the characters that really make these book series stand out from the other hundreds of fantasy books out there. Constructed with realistic strengths and flaws, Leigh Bardugo did an amazing job of creating unique characters with real pain, dreams, and nightmares, friendships, and relationships that make it unforgettable.
The Shadow and Bone TV show stars a young and diverse cast of actors such as Jessie Mei Li, Amita Suman, Freddy Carter, Ben Barnes and Kit Young just to name a few.The show is based on the Shadow and Bone book, but Netflix announced the show would also include the book's sequel, Six of Crows. Showrunner Eric Heisserer explained that, "It required building some story, a prequel worth of story for some characters, so that we don't break anything in Leigh 
Bardugo's timeline. The way they've done this show is they've made the Six of Crows characters fit in with the Shadow and Bone story with their own kind of prequel. But it's really clever how they've done it because you could almost read Shadow and Bone again and kind of nothing's changed even with the way that they've added in the characters."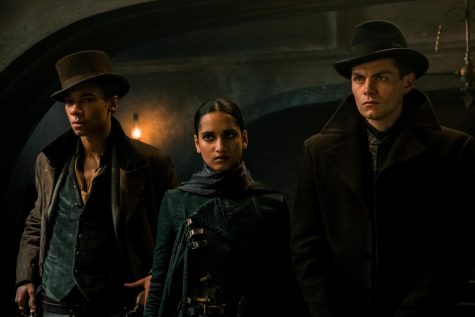 With the series arriving to Netflix this month, book lovers will now be able to travel into the fantasy world of the Grisha and see their favorite characters from these two beloved novel sets interact.
Shadow and Bone premiered on Netflix on April 23, with season one set to have eight episodes.