Santee Named New Principal
Effective July 1st 2021 Assistant Principal for Instruction Jessica Santee will become the next principal at Glenbard South High School. Santee will replace existing Principal Sandra Coughlin, who will retire on June 30th.
Santee has occupied the role of Assistant Principal for Instruction at Glenbard South since 2019. Preceding that, she was Assistant Principal for Curriculum and Instruction at Lisle High School for three years. In an interview shared with Santee she remarked, "I am incredibly grateful for those two experiences," and how they helped her to ascertain "the great workings of a school." She emphasized "we're all depending on one another; the collaboration, the teamwork, is so vital to making school actually work. No one does it alone… I will only be as successful as my team is."
Santee also had taken over the role of Research and Social Sciences Division Chair at York High School from 2014 to 2016, plus a tenure as Social Studies Department Coordinator from 2012 to 2014. In addition, she taught social studies at York from 2008 to 2016.
Santee earned her educational leadership expertise from a Master's degree at North Central college, as well as Masters of Secondary Education from the University of Cincinnati and a Bachelor's degree from Ohio State University.
More of Santee's credentials and information about her appointment by the Board of Education can be found here.
In terms of coronavirus health concerns and how to safely reintegrate students hopefully into the school by next fall, Santee noted that the real question will be how to "connect with students in as many ways as possible so that they have that anticipation and excitement" for the legitimate beginning of an in person school experience.
When questioned about whether students can be expected to wear masks for the 2021-22 school year, Santee essentially said that a lot is still up in the air regarding such conduct. "The rules haven't been established. We'll just wait and see what the guidance is from the health department and for sure from county organizations as well as local organizations." Santee's speculation dictates that masks, at least within the Glenbard district, will not be going away anytime in the near future.
In her first year as principal, Santeen will view the past two years in isolation as an opportunity to rekindle student and staff relations which might have suffered, and build a stronger community within Glenbard South.
Santee noted the amazing work done by students during isolation which hasn't been able to be sufficiently disclosed for all to see. Moving forward, "really showing the work and allowing a place for our clubs, activities, and students to kind of showcase their involvement and their excitement for their areas" will be integral, Santee stated.
Reinforcing the nature of community and the acknowledgment of a growing rapport between District 89 members and Glenbard South staff and parents, Santee noted that she will be most excited and proud to "be the representative, to work alongside everybody that's there… I'm not going to have every answer or every solution but I'm willing to work through it with many stakeholders and all the people involved to always make the best possible solution(s) for our students."
About the Writer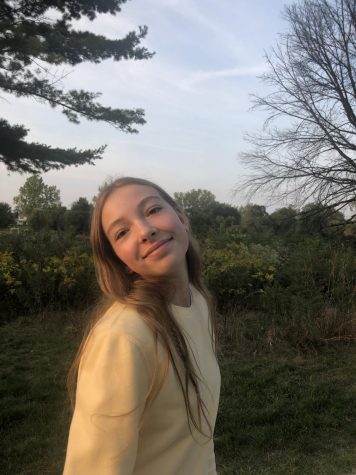 Matilda McLaren
My name is Matilda McLaren and I'm a writer for the News section. In my free time, I love making art, playing sand volleyball, and hanging out with family...