GBS COVID-19 Spit Test Pros and Cons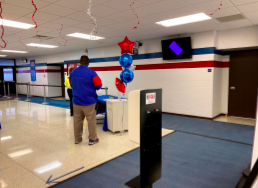 After a first attempt of returning to hybrid earlier this school year, beginning January 19th, 2021, District 87 will begin its second transition into hybrid learning. Along with numerous other safety measures, the District has required that all students and staff returning to the building for in-person learning or extracurricular activities, complete a weekly saliva sample analysis. 
SafeGuard Surveillance, LLC will be analyzing student and staff saliva samples for COVID-19. Students and staff have received kits in the mail that included small vials with a unique barcode sticker, plastic bags, and instructions for collecting saliva samples at home every week. It will be a quick process that will entail depositing a saliva sample into the vial, placing the vial into a bag and sanitizing the bag before returning it to a drop-off box when entering the school. This new safety precaution has many positives and negatives, but at the end of the day, District 87 will all be able to start inching towards more of a sense of pre-COVID education. Here are some of the pros and cons of this surveillance program:
Pros: 
The need of returning to a fully remote schedule will be reduced significantly. 

Studies have shown that the transmission of the virus will be reduced with the weekly program in place as the District will be able to identify potential cases of COVID-19 in the school population before it is spread to other individuals. 

Overall rates of COVID in the community will drive down by alerting those who may need to quarantine before they show symptoms.

Individuals will be provided with their current COVID-19 status.
Currently, the primary way Glenbard assesses the risk of COVID-19 coming into the buildings is by monitoring health department COVID-19 statistics, including positivity rate and cases per 100,000. With the weekly analysis of saliva samples, Glenbard will have a more accurate assessment of COVID-19 rates and risks on campus, providing an extra layer of reassurance for administering in-person instruction in addition to the many safety measures the buildings already have in place.
Cons:
Although, this analysis procedure is extremely effective at recognizing individuals with the high viral loads that are thought to drive the spread of COVID-19. No test has zero risk of false negatives.

 This examination is considered non-diagnostic because samples are collected at home and tested in a lab outside of a medical facility. The results of the surveillance can not be used as the sole basis, or any definitive basis, to diagnose or confirm COVID-19. Further, a negative result of the surveillance does not rule out the possibility that any person that has been tested, could have COVID-19. But this type of monitoring has been validated and used worldwide for its accuracy.  

With each test costing about $11 dollars the cost to the District will be high due to the great number of students and staff.
Overall, this program does not take the place of Glenbard's buildings' health and safety measures, including wearing masks and maintaining social distancing. In addition, cleaning protocols, and regular washing of hands keep the risk of in-school transmission low. 
The saliva testing will be a supplementary tool that can help guarantee that asymptomatic individuals do not come to the buildings. 
Keep in mind that the Illinois Department of Public Health's advice has not changed. A person should stay home if one or more of the following symptoms appear: fever of 100.4 or more, new onset of moderate to severe headache, shortness of breath, new cough, sore throat, vomiting, diarrhea, abdominal pain from an unknown cause, new congestion/runny nose, the new loss of sense of taste or smell, nausea, fatigue from unknown cause and muscle or body aches.