How COVID-19 Changed Christmas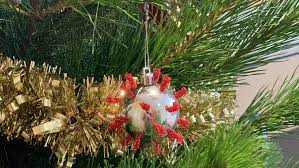 This holiday season is unlike any other. Almost every aspect of this festive time has been altered due to the coronavirus. Traveling, shopping and people's Christmas spirits have been significantly affected. 
Traveling for the holidays, especially through airports, has been heavily discouraged by the Centers for Disease Control and Prevention (CDC). Many say they are canceling their travel plans, rethinking big family gatherings or resorting to Zoom to celebrate the upcoming holidays. Some fun and safe activities to do on Zoom include a virtual secret Santa, movie night or just connecting with family and friends. 
If you are traveling, some precautions to take include social distancing from others, wearing a mask or face shield or quarantining for 14 days beforehand. Another thing to consider is to get COVID tested before leaving, depending on the state's restrictions. 
 Christmas shopping during the holiday season is typically a blur of packed stores and rushing to get gifts before they sell out. With a limited number of people allowed in stores and fear of the coronavirus, many have turned to online shopping from the comfort of their homes
As a result, this year's Black Friday online sales skyrocketed and the amount of in-person shoppers was substantially decreased.
Despite the differences between this "Covid Christmas" and other Christmases in the past, holiday spirits are surging around the country. Many have invested in extravagant holiday decorations and lights while setting up Christmas trees right after Thanksgiving.