Keep busy during break
Thanksgiving is usually a time for many to relax, meet family and friends and gather around the dinner table for a hearty meal. With DuPage County enforcing strict quarantining measures once again, it can become difficult to maintain distance in the upcoming break. Here are some fun activities to keep busy during break!
     1. Gather around for a virtual trivia night! Set up a Kahoot, Quizlet or any other virtual quiz and test your knowledge against family or friends to see who reigns supreme. Not only is this a fun social activity to do, but exposure of the virus is at zero for this one.
     2. Cook together. Cooking is already an activity many have picked up since spring time. Now, share your recipes with those around you in a virtual gathering. Video call your loved ones, and follow along as you prepare a delicious feast.
     3. Have a group movie night! Use Teleparty to synchronize playback, and watch together from the comfort of your own home. You can also just manually synchronize videos and safely spend some time.
     4. Organize a remote game night. Choose from a multitude of virtually adaptable games including charades, pictionary and twenty questions to get competitive with a group of friends or family. 
     5. Find a penpal! Use different websites online to find a penpal you can write letters to. Having a penpal is a unique way to connect with others during this time and is also something you can do beyond quarantine.
     6. Start a blog. 2020 has been a crazy year for all, and everyone has something unique to share. Whether you decide to keep this blog for personal use only or share your ideas with the world, keeping a blog is a great way to stay busy.
     7. Go stargazing! Not all socially distanced activities have to be indoors. With clearer skies in the past couple months, it is the perfect time for stargazing. Illinois' one and only international Dark Sky Park, Middle Fork River Forest Preserve is two hours from Chicago. If you are not up for the long drive, you can always go outside and spot these celestial bodies from your backyard.
     8. Catch up on the things you have been putting off. Whether it is studying for an exam or organizing a messy closet, most everyone can say they need to catch up on something. With Thanksgiving break spent in quarantine and the possibility of finals soon after, it is a good time to take advantage of this opportunity and get caught up on all the little things.
     9. Sleep! Health is important, and you can use this time to catch up on any sleep you have missed out on.
About the Writer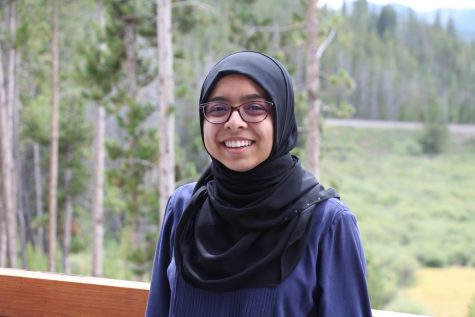 Zainab Talha, Scoop/In Depth Editor
My name is Zainab Talha. I am a junior and editor for Scoop and In Depth. In my free time, I enjoy reading and writing.