Where's the Vaccine?
Since mid-March of the 2019-2020 school year, remote learning has been in effect. First anticipated to last only a couple of weeks, it quickly became apparent that the situation would go on for much longer. As students not only in the U.S, but all around the world prepared for their strange new routines, one question remained on everyone's minds, when will things go back to normal? Now, six months after COVID-19 was declared a worldwide pandemic, reports of a vaccine have given hope of a return to the ordinary.
Currently, many countries around the world are seeing a rise in cases of the coronavirus. With a cumulative total of over seven million cases and 209,000 deaths, the U.S. is in the lead among these countries. Many states are also seeing an upward trend. Illinois specifically has made it among the top states with its rising number of cases, and it does not get any better from there.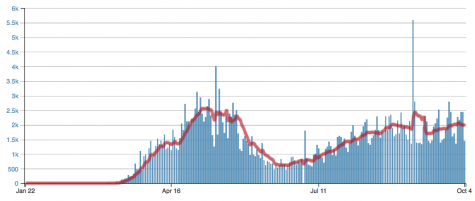 According to the Dupage County Health Department's live updates, new cases are reported each day by Dupage county as well. At a time like this, it is critical that everyone takes full preventative measures to ensure that a "second wave" of COVID-19 does not occur.

Combining Forces
As written in an article from the World Health Organization, on July 15th, 2020, the Covid-19 Vaccines Global Access Facility, or the Covax Facility secured engagement from more than 150 countries, representing 60% of the world's population.
As described by one of its leaders, Gavi, Covax, which is co-led by the Coalition for Epidemic Preparedness Innovations (CEPI), the World Health Organization (WHO), and Gavi (the Vaccine Alliance), has aimed to accelerate COVID-19 vaccine development and production as well as equitable distribution among all countries regardless of their ability to pay. Covax also serves to provide vaccinations to those most vulnerable in order to prevent greater loss, ultimately as a global effort to fight the pandemic and its ramifications.
Consolidated Efforts Gone Awry
In a Washington Post article, writers Emily Rauhala and Yasmeen Abutaleb described the issue which arose with Covax. At the end of May, the Trump administration announced that it would cut off its relationship with WHO, therefore rejecting its participation in the Covax Facility. This decision caused a lot of tension and alarm among health officials and experts. Rauhala and Abutaleb wrote that the unilateral approach of the U.S. was a major blow in the efforts of many countries looking to seek a joint solution. Following the U.S, Russia and China took a similar approach as remaining independent in their efforts to create a vaccine. 
Although Covax is still supported by Germany, Japan, and the European Commission, the nonparticipation of the U.S. caused people to worry that this choice will not only be detrimental to poorer countries around the world, but also the U.S. itself. The drive for self-sustainability may prove to do more harm than it does good. In addition, if one country develops a better vaccine, there will be no collaboration of efforts to determine which will be the most effective solution. 
Others, like writer Adam Taylor of the Washington Post article, "Why Vaccine Nationalism is Winning", claim that this will be beneficial and create healthy emulation between countries, driving for innovation. After all, history has shown that great things can occur when nations compete, as Matthew Lynn wrote in the Spectator on September 2, "That was certainly true of the Cold War space race. Or the scientific breakthroughs – from radar to rockets – of WWII."
How Vaccines Work
Before introducing the vaccines that seem to be working, it is important to understand exactly how vaccines work. Although vaccines come in many different forms, the most common is to release weakened or inactivated forms of the virus into the body. This allows the body to form immunity against that specific virus. 
In a CNN article titled, "What We Know About the C.D.C.'s Covid-19 Vaccine Plans", Carl Zimmer and Katie Thomas explained how a newer technology in vaccines works. This method, which has never been approved before, is to use messenger RNA or mRNA. This mRNA is injected into the muscle cells and works by "giving instructions" to build a protein. The protein is built on the surface of the coronavirus, stimulating the immune system, therefore protecting a person from contracting the virus.
Vaccine Testing Stages
Zimmer and Thomas also describe the different phases a vaccine must go through before being approved. All vaccines must go through several different stages of testing. In the preclinical stage, researchers test them on animals. If this goes well, Phase 1 can begin. In Phase 1 of testing, the vaccine is given to a small group of people, and they are monitored closely for any sudden negative reactions. In Phase 2, scientists run several trials, giving the vaccine to a large number of people divided into groups, such as old and young, to determine the different reactions between them. In both Phases 1 and 2, the blood of subjects is tested and looked at closely to determine if the vaccine is producing antibodies that provide immunization against the virus.

Later in their article, Zimmer and Thomas go on to write that Phase 3 is an extremely important trial, because only it can determine whether or not a vaccine is safe and effective enough to be widely distributed. In Phase 3, thousands of people are randomly assigned to receive either the vaccine or a placebo. Doctors and recipients alike do not know what has been given to each person. This helps to create unbiased results of the trials. After revealing the evidence, researchers can then compare to determine if the vaccine is worth distributing for widespread use. The FDA states that if the vaccine offers at least 50% protection, then it will be considered effective. After the preclinical stages and all three phases, these results are closely reviewed by the FDA, then finally approved for mass distribution.
Leading Projects in the Creation of a Vaccine
Already, results have been showing with independent efforts. According to a COVID-19 vaccine tracker from RAPS (Regulatory Affairs Professional Society), Russia has produced Sputnik V, the only approved coronavirus vaccine as of yet. Developed by the Gamelaya Research Institute in Moscow, it was approved by the Ministry of Health of the Russian Federation on August 11 before it reached Phase 3 of testing. The vaccine's hasty approval has raised questions about its safety. 
RAPS also states developments in America. In the U.S., three vaccines have taken the lead and are being funded by the government. The first among them is being developed by Pfizer, one of the world's largest pharmaceutical companies and BioNTech, a German biotechnology company. It is named BNT162. Pfizer's vaccine is currently in Phase 3 testing. 
The second is being developed by Moderna, a Massachusetts based biotechnology company, and is called mRNA-1273. It is also in Phase 3 clinical trials. Both Pfizer and Moderna use mRNA technology to provide immunization for their products. 
The last of the three government funded projects is by AstraZeneca, a British-Swedish pharmaceutical and biopharmaceutical company, and the University of Oxford, and is referred to as AZD1222. AstraZeneca's product has also been in Phase 3 of testing. It uses an adenovirus, or a virus that causes a common cold. For this vaccine, scientists swapped in a gene for SARS-CoV-2, the virus that causes COVID-19. In turn, this builds a SARS-CoV-2 protein, which stimulates immunity and provides protection. Currently, AstraZeneca is under investigation for their vaccine exhibit results which may threaten the safety of people if it is widely used.
According to RAPS, all three U.S. government funded vaccines run under Operation Warp Speed (OWS) a public-private partnership initiated by the Trump administration, which serves to distribute 300 million doses of a safe vaccine as part of a larger purpose to quicken the development, production, and distribution of a COVID vaccine.
FDA Emergency Use Authorization Debate
The presentation of the vaccines brings up another question, when will these vaccines be available for distribution? As stated earlier, vaccines can only be made available for distribution if the FDA approves them after looking at clinical trial results. However, it does have power to use its "emergency use authorization". This is where the FDA can temporarily approve a medical product in order to accelerate its availability during a public health crisis. In a Washington Post article writers Laurie McGinley and Carolyn Johnson write that President Trump has claimed a vaccine may be available for distribution as early as the end of this month or the beginning of November. This has sparked a debate about whether or not the FDA should use its emergency use authorization to approve the vaccine. 
McGinley and Johnson describe both sides of the argument in their article. Some say that this could potentially be very hazardous. Side effects of drugs may only show over time, and it is crucial that these vaccines be monitored closely regardless of their previous successes. Doctors also say that for a product which is to be so widely distributed, it should go through full FDA approval in order to ensure that there will be no substandard quality. Other opposers of this emergency use authorization claim that Trump's drive to get the vaccine out by late October, early November is so it gets done before Election Day, something that would work in his favor and possibly earn the approval of the public. 
Supporters of the approval are insistent that if such an authority can be used to save many lives, then it should be utilized. For them, it is an obligation to the people to provide the best when possible. FDA officials say that there will be absolutely no political consideration when approving the vaccine.
CDC Preparation for Vaccine Release in All 50 States
In an article on the New York Times titled, "C.D.C. Tells States How to Prepare for Covid-19 Vaccine by Early November" writers Sheila Kaplan, Katherine J. Wu and Katie Thomas described information regarding the CDC's instructions to all states. The CDC has already informed public health officials in all 50 states to prepare for vaccine distribution by late October. Two unnamed vaccines, referred to as Vaccine A and Vaccine B were mentioned in the documents sent out. Although these vaccines have not been officially revealed yet, details of Vaccine A match Pfizer's vaccine, and details of Vaccine B match the Moderna vaccine. In their article, Zimmer and Thomas write, "According to the documents the agency sent to the public health offices, two million doses of what the C.D.C. labeled Vaccine A — most likely the Pfizer vaccine — may be available by the end of October, with 10 to 20 million doses possibly available by November, and 20 to 30 million by the end of December." As for the Moderna vaccine, it is possible 1 million doses can be available by the end of October, 10 million by November, and 15 million by December. Both vaccines require two doses a couple weeks apart to function properly and are the furthest along in late clinical trials. 
The documents outline the large and complex procedure of distributing the vaccines. According to the papers, first recipients of the vaccine will include healthcare and essential workers as well as high-risk people. 
Zimmer and Thomas also write that although the nature of such a detailed plan is necessary, some worry that its ambition may serve to focus on reaching deadlines as opposed to meeting safety standards. Additionally, both vaccines require certain storage specifications. Pfizer's product must be stored at minus 70 degrees Celsius, and Moderna's must stay at minus 20 degrees Celsius. This may prove to be difficult to distribute. In either case, the vaccine would have to go through the FDA's emergency use authorization to follow the CDC's outline.
Although the CDC has sent out these documents telling states to prepare, it is possible that this will not occur anytime soon. Writers Linda A. Johnson and Jonathan Lemire write in their article that both the Pfizer and Moderna vaccines may not qualify for emergency authorization or be made available until the end of this year or in the spring.
With such a bombardment of ideas and thoughts, it will take a lot to sort out the best option for a combatant against COVID-19. From the U.S. dropping out of Covax efforts to the ongoing debate about approval of these vaccines, there is a lot to be taken into consideration. One thing is certain, only time will tell of the best solution out there.