From All-Remote to Hybrid: The Four Guidlines
From All-Remote to Hybrid: The Four Guidelines
Glenbard 87's Superintendent, David Larson, released four criteria that will help the district move from an all-remote environment to a hybrid model. According to Larson, the four criteria are as follows: health data, staffing, quarantine restrictions, safety protocols and equipment.
The first, and maybe most important, criteria is health data. The district will use health data to monitor the trend of COVID-19 in DuPage County. They will watch closely for any increases that may make it unsafe for students to return to school. They will also monitor the rules that schools are required to follow such as social distancing and mask wearing. 
Staffing will be the second criteria that the district has been working to figure out. There will need to be a maximum number of staff members to support students, while maintaining safety and social distancing. According to Larson, the security staff has been at 50% of what normally would be expected. Larson also has stated that the district is working with the security company to increase staff.
The district also released its quarantine restrictions. These restrictions will pertain to any individual who has COVID-19 or has been in contact with someone that tested positive. Each school will use contact tracing to prevent further spread. Larson said that if everyone will follow the health guides, contact tracing will be easier and more effective. The safety protocols that the school has set up will help the process of contact tracing by always knowing which students sat next to whom. If a student or staff member tested positive for COVID-19 he or she would be required to quarantine for at least 14 days.
While the quarantine restrictions will help after someone tests positive, the district will also install numerous safety protocols and equipment. Each school has a temperature check and a self-certification station at the entrance to ensure that no one has symptoms of COVID-19 upon entering the building. The district has made designated quarantine rooms in each building as well. The air quality has been tested, and the district has invested in several pieces of equipment to protect staff and students. In addition, the district has supplied disinfectant spray, hand sanitizer, masks, gloves, plexiglas barriers, electrostatic sprayers and more. 
When these criteria are at an acceptable level Larson will be "confident that our combined efforts will result in reducing the number of COVID-19 cases so we can safely launch our hybrid learning model soon." The district will be relying on its students and staff to carry out these criteria so that the learning model can shift to hybrid when the accepted criteria levels are met. 
About the Writer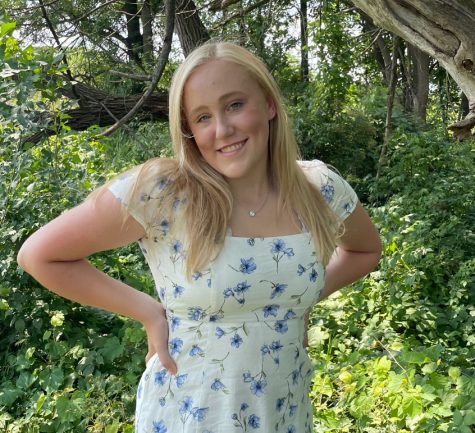 Felicity Abbott, Editor in Chief
My name is Felicity Abbott and I am a junior and one of the editor in chiefs this year. I am in various clubs at South and I also participate in volleyball,...