Ruth Bader Ginsburg Tribute
 Ruth Bader Ginsburg's dying wish stated nearly days before her passing was this- "My most fervent wish is that I will not be replaced until a new president is installed." Although many wish to respect her desire and place a hold on the new selection process, President Donald Trump has an undeniably resolute contradiction to such actions. In addition to fulfilling her last "fervent wish", the only way to pay Justice Ginsburg due respect for all of her earnest work and impact on the rights of American people is to review the timeline of her life.  
Ruth Bader Ginsburg was born Joan Ruth Bader in the Flatbush neighborhood of Brooklyn, New York on March 15th, 1933. 
Ginsburg and her family were Jewish and strongly identified with their faith. At the mere age of 15, Ginsburg gave a sermon at Camp Rabbi Che-Ne-Wah in Minerva, New York. At 17, she was prohibited to join a minyan, or an assembly of 10 men over the age of 13 who carried out "traditional Jewish public worship", only because she was a woman. 
In 1950, after four years of academic excellence and hard work Ginsburg graduated from Madison High School in her hometown of Brooklyn. 
In the following four years, Ginsburg set her sights on attending Cornell University, and carried out four consecutive stellar years with ambition and fortitude even while in the midst of a densely populated male class. 
  Being one of only 9 women among a class of 500 students at Harvard was definitely not easy for Ruth, and by default she and the other females in her class were held to a very different standard. In her one-on-one interview for the documentary film RBG, Ginsburg disclosed that her male professors refrained from calling on any women during the socratic seminars, perhaps afraid that they would "wither if subjected to such harsh questioning." Not to mention, the dean of Harvard hosted an annual dinner party exclusive to all the first year women attending the university to ask the single (and undeniably offensive and bigoted) question- "What are you doing taking a seat that could be occupied by a man?"
However, Ruth's cool temperedness and exceptional mental ability thwarted any of these obstacles from affecting her academic excellence and her ability to graduate from Harvard at the top of her senior class. However, in alignment with the selfless and rather flexible nature of Ginsburg, she transferred to Columbia Law School in the very last year of her school career in order to remain near Marty when he was offered a job at a New York City law firm.
In the 1960s, it was very challenging for a woman to secure a job at a law firm and earn substantial respect. However, a friendly Columbia professor offered Ginsburg a job as a clerk under the U.S. District Judge Edmund L. Palmieri, whom she worked under for two years.
Following her role as a professor at Rutgers University Law School in 1963, Ginsburg willingly accepted a teaching slot at her former Columbia Law School in 1972. She was the very first female professor to receive tenure on the faculty of Columbia. 
Ginsburg was hired as the director of ACLUs (American Civil Liberties Union) Women's Rights Project in the 1970s, where under the support of the project she brought forth cases to the Supreme Court in order to "persuade justices that official discrimination on the basis of sex was a harm of constitutional dimension." 
Thirteen years after being appointed by Jimmy Carter to the U.S. Court of Appeals in 1980, RBG was nominated to the Supreme Court by then President Bill Clinton. She was the second woman after Sandra Day O'Connor to serve on the Supreme Court. Her nomination is considered a monumental feat in regards to the progression of women everywhere. In her speech of acceptance she paid tribute to her late mother with the words- "I pray that I may have been all she would have been had she lived in an age when women could aspire and achieve and daughters are cherished as much as sons."
Unfortunately, her husband Marty Ginsburg passed away in 2010 due to cancer at the age of 78. He and Ruth had been married for 56 years. 
It would be a grave understatement to say that the "Notorious RBG" impacted the lives of men and women everywhere. She ensured all people earned the rights due to them, and never stopped fighting for what she deemed right. May Ruth Bader Ginsburg rest in great repose and power within the US Capitol, where her casket lies surrounded by the very building within which she worked so hard to ensure a brighter future for all. For as Ruth so intelligently put it, "Fight for the things that you care about, but do it in a way that will lead others to join you."
About the Writer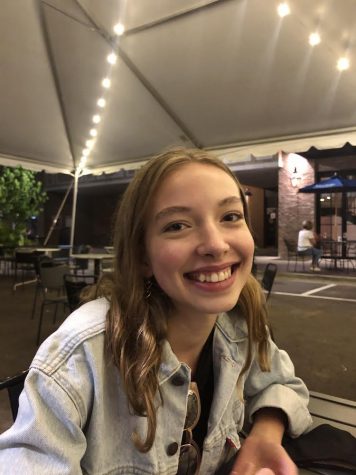 Matilda McLaren, In-Depth Writer
My name is Matilda McLaren and I am a sophomore writer for in-depths this year. I am involved in many clubs at Glenbard, some of which are Best Buddies...