Hustlers and Its Powerhouse Cast
From the start, Hustlers has had a lot of promise. Featuring Constance Wu, Jennifer Lopez, Julia Stiles, Keke Palmer, Lili Reinhart, Lizzo, Cardi B and a true story, critics were banking on a huge hit. While the majority of hype surrounding the release of the new movie revolved around the incredible cast, both audiences and film makers alike know that combining several big names can either be a huge hit, or a catalyst for disaster.
Beyond its stars, Hustlers is also exciting because it follows a true story while also delving into controversial and contemporary themes. The plot of the movie surrounds Destiny, played by Wu, whose financial struggles and responsibility to care for her grandmother pull her both in and out of the New York stripping scene. Teaming up with colleague Ramona, who is played by Lopez, the pair begin an illegal scheme to drug and rob their rich clients. A similar, real-life crime ring is described in Jessica Pressler's article "The Hustlers at Scores," and the characters of the film are loosely based on those that Pressler wrote about.
That said, Hustlers did choose to take some creative liberties. Names are changed, and the motivations of the core four within the crime ring are all altered. The Recession of 2007 serves as a catalyst for the characters in both real life and film, but the personal needs each character has for money, such as Destiny's desire to care for her ill grandmother, are fabricated. Yet, despite some slight cinematic differences, the raw stories of each individual remain at the forefront of the plot. Instead of condemning the characters for their actions or profession, the movie instead displays the environments that force each into crime and humanizes an often ignored population. 
Regarding the possible danger of using so many big name actresses, critics agreed that Hustlers managed to pull it off. Initial reviews worried about combining such drastically different performers, such as Lili Reinhart from the teen series Riverdale and musical pop star Cardi B, yet somehow the movie worked seamlessly. Each actress successfully embodied the role of their individual character and Lopez has received an enormous amount of praise for her performance. Overall, the main four women at the forefront of the scheme, Destiny, Ramona, Mercedes (played by Palmer) and Annabelle (played by Reinhart) were incredibly dynamic and worked extremely well together.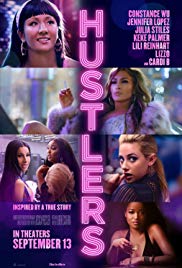 Hustlers is a rare masterpiece that retains a strong sense of levity while also introducing thought-provoking characters and situations. It is most definitely intended for an older audience and contains several more graphic scenes. However, for those who want an entertaining and modern movie experience, Hustlers is definitely worth viewing. It is currently playing at most local theaters, including Studio Movie Grill and the Yorktown AMC.