Cookie Dough Creations
Sohini Surapaneni, Editor for The Scoop
March 5, 2019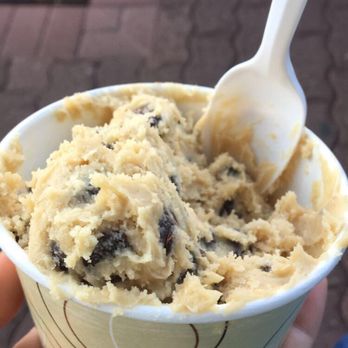 We have all had our fair share of cookie dough and have listened to our home-ec teachers warn us about eating it raw. Of course, it is rare that children listen to these suggestions and resist such temptations. The little store Cookie Dough Creations in downtown Naperville offers a solution to the health hazards of eating raw cookie dough — and it is delicious.
Cookie Dough Creations sells cups in the sizes mini at $3.50, small at $4.50, medium at $5.25, and large at $6.25, as well as entire pints at $7.50 and quarts at $13.00 of dough. Their ingredients have no preservatives, no raw eggs, and 100% decadent ingredients, making them safe to eat. Flavors range from the basic chocolate chip, to cake batter, to brown sugar and the texture and flavor of the dough is quite exact to the kind that is traditionally baked. It is also quite popular to pair a scoop of cookie dough with a scoop of ice cream, which they also serve in classic flavors like chocolate and butter pecan, and relatively unique flavors such as Moose Tracks and Strawberry Cheesecake.
Besides cookie dough, the store also has actual cookies on the menu, from frosted sugar cookies to peanut butter ones. They may be sold singularly, as a half-dozen, or in dozens. They have also received good reviews of "soft" and "similar in flavor to their raw cookie dough." For those that would prefer a milkshake, Cookie Dough Creations offers floats and shakes that can be made with cookie dough, ice cream, or both. The store is also within most people's price ranges; nothing on the menu, regardless of size, exceeds a price of twenty dollars, even with tax.