Glenbard Hockey Looks to Make Another Run at State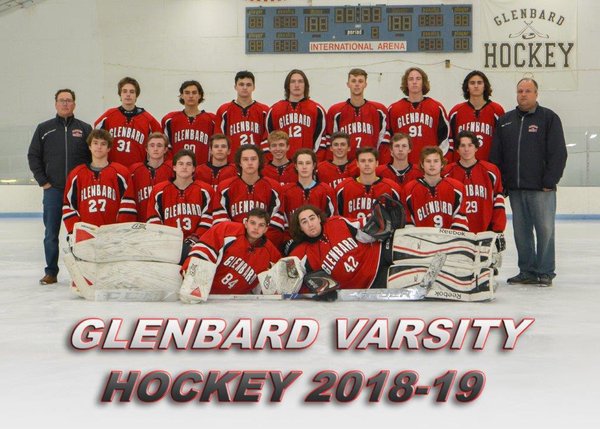 The Glenbard Hockey team had held a highly regarded reputation in the state of Illinois as it had won state championships in 2012 and 2015 and have also made several other trips to the state finals in previous seasons.
      Because of this, it has been no wonder that the team, led by head coach Jason Hawkins and assistants Danny Pietro and Tommy Lavin, have their sights set on another return to state with the hope of bring home some more hardware.
      With all four Glenbards feeding into one team, competition for the varsity spots are very high as the coaches pick from such a big pool of players. So far this year the team has performed exceptionally well, holding a record of 28-11-2 and currently being on a 5 game winning streak. The boys have outscored opponents by over 50 goals this season which always drives out a great crowd.
      The home games, which usually occur on Friday nights, always prove to have a great atmosphere because of all four Glenbard schools getting a chance to support one team together. Glenbard South junior Mitch Pfefferman expressed the excitement he has felt at the games, "The energy is just electric. I really enjoy being so up close to the action and it's a very unique and different experience that you don't get while watching other sports."
      With the state tournament starting in early February, the Glenbard Hockey team looks to continue its win streak into the playoffs in its pursuit of another return to the state finals.