The Three Chipotles
As classic fast food that caters to vegetarians and meat eaters alike, Chipotle Mexican Grill is quite popular.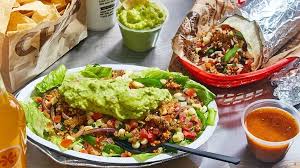 Sohini Surapaneni, Editor for The Scoop
December 16, 2018
As classic fast food that caters to vegetarians and meat eaters alike, Chipotle Mexican Grill is quite popular. Chipotle offers customers the chance to make their own burrito, burrito bowl or tacos and to utilize ingredients such as lettuce, brown rice and guacamole — attractive even to the health conscious.

There are three Chipotles within proximity of Glenbard South High School.
For good reason, one of the more popular ones is on Roosevelt. The portion sizes at this Chipotle are alway large, and the burrito bowls are filled to the brim. Even better, this Chipotle has the quickest service as it employs the most people, allowing the assembly line to take the maximum amount of customers it can at a time. Thirdly, it has the most convenient location. On Roosevelt, it sits equidistant between the high schools Glenbard West and Glenbard South, and customers will often see high schoolers stop by on their lunch breaks.
A second Chipotle is off of Butterfield in Downers Grove. Once again, it has a very convenient location and is immediately spotted as cars exit highways connecting onto Butterfield. It is also never packed as there are other food places like Panera nearby that attract more customers. Unfortunately, the service at this Chipotle is also relatively unstable. If one were to make a visit late night, it is likely that this location will have run out of beans or rice. I say this from personal experience.
If one travels eastward on Butterfield from the Downers Grove Chipotle, one will encounter another Chipotle right before entering Danada Square. Of the three, this is the quietest and sits next door to an Oberweis and Jimmy Johns. Due to it being empty more than the others, it never runs out of ingredients and guarantees fast service. However, portion sizes are smaller than the Roosevelt Chipotle, and this is likely why this one attracts the least customers.
All in all, the Roosevelt Chipotle offers the best service and quality food, making it the most popular in Glen Ellyn. It is also right by a Healthtrack, and health nuts can easily stop by to have lunch or dinner after working out, as Chipotle uses unprocessed ingredients and is sure to fill your stomach. So the next time you are craving some americanized Mexican food, I'd recommend this Chipotle at 2119 Roosevelt Road – you might even meet some Glenbard South Students!