In Defense of Kanye West
2018 has been a very interesting year for Kanye West, and it has probably been his most prolific year in terms of music.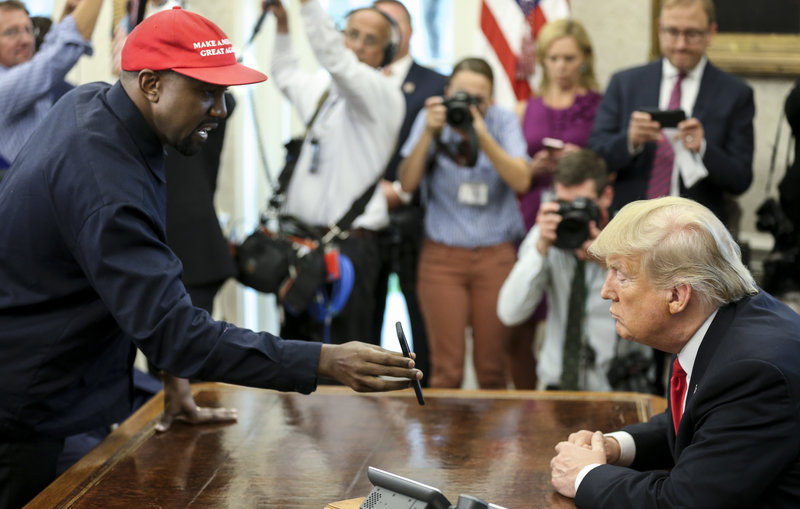 Tommy Powers, Writer for The Scoop
December 16, 2018
"I feel kind of free… I thought this country said I couldn't be me."
-Kanye West, during a freestyle on Saturday Night Live
2018 has been a very interesting year for Kanye West, and it has probably been his most prolific year in terms of music. He released a Billboard #1 solo album, four singles, a collaborative album with label-mate Kid Cudi and produced three other albums. He has another solo album slated for a November release – tentatively titled Yandhi – and has already begun promotion for two more collaborative albums, one with Jay-Z and another with Chance the Rapper. In a recent interview with TMZ, Kanye described the product of his busy summer as "superhero rehabilitation."
However, West's 2018 has not been defined entirely by his musical output. Leading up to his album releases, Kanye rejoined Twitter and began voicing his support for highly controversial US President Donald Trump. Since then, West has met with Trump in person and donned Trump's infamous MAGA hat consistently in public view. Critics of West argue that support of Trump is contradictory to West's prior political sentiments as he was famously critical of Republican president George W. Bush during a Hurricane Katrina support telethon. West went off-script, stating "George Bush doesn't care about black people".
Being a follower of Kanye's career, I was not surprised to hear of his support for Trump as his criticisms of Bush took place more than a decade ago. In addition, since that incident, West has voiced his desire to emulate traits of business moguls such as Steve Jobs, Elon Musk and Walt Disney and has expressed his support of free market capitalism. As a West superfan and an individual who is frequently embarrassed to have Donald Trump as my president, West's association with MAGA leading up to his summer album releases was hard to digest. Furthermore, I would have liked some of his points to be articulated better, such as his spreading misinformation about slavery (West stated in a TMZ interview that there were only 800 slaves in America, when in reality there were around four million).
However, despite my hang ups, music from one of my favorite artists was on the way. Amidst his political expressions on Twitter, West was also beginning promotion for the summer albums he would be producing: DAYTONA by Pusha T, ye by West himself, KIDS SEE GHOSTS by West and Kid Cudi, Nasir by legendary New York-based MC Nas and KTSE by Teyana Taylor. Despite my reluctance to accept Kanye's political expression, I was undeniably excited for the albums to drop. The least I hoped for in the records was that I would be able to appreciate them musically despite my questioning the artist's politics, and they certainly delivered from a musical standpoint. DAYTONA is one of the best hip-hop albums of the year, and KIDS SEE GHOSTS is now one of my favorite albums of all time.
When West's solo album ye was released, various aspects of the record led me to the unexpected realization that West's recent public sentiment is thought-provoking in a positive way, and it is essential during such a volatile era.
2018 West is not politically motivated. In fact, he has outwardly expressed that he does not identify as either a Republican or a Democrat. Furthermore, West has met with Donald Trump to discuss prison reform issues and the 13th amendment, expressed solidarity with Colin Kaepernick's movement against police brutality and used his connection to Trump to gain presidential pardon for 63 year-old Alice Marie Johnson, who was serving a life sentence for a nonviolent drug offense. In addition, he has begun work on improving infrastructure in Uganda while recording his upcoming album there, as well as working on housing development in low-income areas of Chicago. He is using his platform and his connection with the president to try to develop a mutually beneficial dialogue between the Right and the Left and establish a more positive relationship between the two parties.
West's performance and speech on "Saturday Night Live" beautifully summed up his year thus far. His first performance was his single with Lil Pump, "I Love It." West was in costume as an oversized bottle of Perrier (get it? Perri-Ye…) sparkling water and Lil Pump dressed as an oversized Fiji bottle, both references to lyrics from the song. The song was rather ridiculous, as intended, and the performance was a bizarre but effective piece of comedy. West and Pump were dancing around the stage in a visible state of exuberance, hardly able to contain their laughter. His second performance was a new song entitled "We Got Love," featuring Teyana Taylor. It was a far more serious effort than the aforementioned "I Love It," using only an organ and light drums that were much more subtle than the glitzy trap beat on "I Love It.". On "We Got Love," West rapped about his desire to "heal the hate" and a vision for a future where "love is the new money." The song included an orchestral outro with a spoken-word sample of acclaimed MC Lauryn Hill, in which she described the value of self-worth over fame and material goods. West finished the show by performing "Ghost Town" with Kid Cudi and 070 Shake, a song from his previous solo album, and then giving a speech about why he decided to perform in the MAGA hat.
There is a significant issue with the public reaction to West's performance. Although this is a fairly anecdotal point, anyone who had been on Twitter the day after the SNL performance can tell you that the most covered aspect of the show was the performance of "I Love It" with Lil Pump. People compared the "I Love It" performance to his 2011 performance of "Runaway," a meticulously orchestrated show complete with ballerinas and pristine set design that is known as one of the greatest live performances in SNL's history. This is a ludicrous comparison. If one wants to compare the music of 2018 West to the universally loved music of 2011 West, they should at least compare two songs that he takes seriously.
West is an important voice in the world of honest expression. He is leading by example through his support of President Trump despite the controlling nature of today's identity politics that dictate what political party people should associate with based on the demographic that they fit into. During a time when the vast majority of news is left-leaning, it is important to consider honest ideologies instead of letting the popular rhetoric dictate your thoughts. West wears his MAGA hat to prove that in 2018, a black man should be able to think freely and have his own political opinions. West associates with Trump because he wants to develop the dialogue surrounding the president to be productive. In his words, "y'all be going at [Donald Trump's] neck a lot, and I don't actually think it's that helpful."
Regardless of whether one agrees with anything West says, the concept that each individual should be able to think and express themselves freely is inarguable. West is encouraging society to express itself honestly, and for that, I commend him.