'When The Curtain Falls', A Bad Omen For Greta Van Fleet – Greta Van Fleet
Hang on for a minute...we're trying to find some more stories you might like.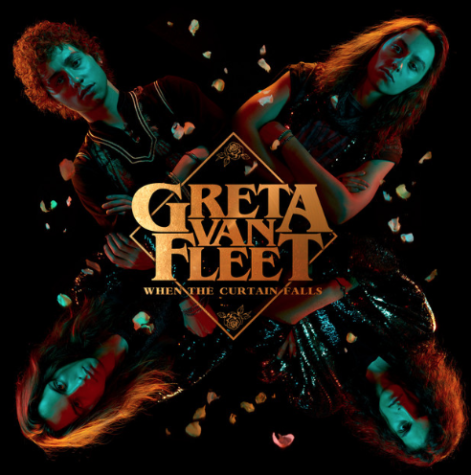 Greta Van Fleet, the young rockers from the midwest riding the fame of their predecessors with no shame, fail to explore any new ideas on their newest song, "When The Curtain Falls." This song is a single to be fully released in Van Fleets second full length album, and it is a harrowing warning to their future in the music industry.
While Van Fleet has been known to write and sound almost identical to the rock legends of the late 60's and early 70's such as most notably, Led Zeppelin and Steppenwolf, Greta Van Fleet lacks any of the authenticity or innovations that these bands brought. However, previous songs under Van Fleets belt actually are quite unique and interesting sonically like the soaring leads of "Safari Song" to the more lyrically centered melodies of "Black Smoke Rising."
Sadly enough, "When The Curtain Falls" brings no immediate charm. This is most likely due to the bands lack of musical growth or maturing as of yet. The song, which is quite simple with generic leads and riffs straight out of a subpar 70s rock song, reaffirms Greta Van Fleet's lack of self-style. Lyrically, the song is a generic piece about a rockstar's love life, which has a uninspiring set of verses and chorus lyrics. This is extremely worrying for their fan base as instead of aiming to the crowds of modern rock and blues fans, Greta Van Fleet relies on older fans of older bands who dream of reliving their old glory days rather than hearing current day musical growth in the rock genre. This is obviously a bad thing as when those people inevitably die off, they will have lost a large chunk of their core fan base. The only way to escape this doomed fate of being remembered purely as a brief moment in the rising rock scene of the 2010s, is to innovate, something Van Fleet seems vehemently against.
Once Greta Van Fleet stops writing, producing, marketing, and behaving like Led Zeppelin and deciding to make their own genuine sound instead, they will fully thrive in the music world to reach their full potential.
Greta Van Fleet's "When The Curtain Falls" is available everywhere where you can stream music.