'Iridescence', A Pivotal Record For BROCKHAMPTON
Hang on for a minute...we're trying to find some more stories you might like.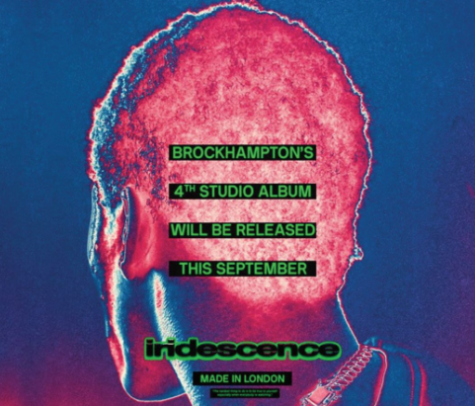 BROCKHAMPTON has released yet another hit album. "Iridescence" is the fifth full length album from the group. However, this album marks an important crossroad of the group's career, as it is their first album signed under RCA Records, which is the first big label to sign the group for an estimated fifteen million dollars. RCA's investment did most certainly pay off.

RCA's fifteen million was put to great use, allowing for BROCKHAMPTON to record "Iridescence" at Abbey Road Studios in London, widely regarded as one of the best studios in the world. Due to this "Iridescence" is BROCKHAMPTON's most cleanly produced record with certain songs such as "SAN MARCOS", "TONYA", and "FABRIC" demonstrating this perfectly with their more R&B centered nature. This genre shift better allows for the improved mic quality, and more higher quality instrumentalization stand out from the rest of BROCKHAMPTON's work and is a refreshing change of pace.
This cleaning up, however, does not take away from the group's influences of gangster rap and grime which the group attempts to guarantee listeners of with the first track off of the album, "NEW ORLEANS". Another song, "WHERE THE CASH AT" has BROCKHAMPTON continue their exploration of the grime genre popular in the U.K. This style, while niche in the U.S. where BROCKHAMPTON is based has been experimented upon more in the previous albums in the Saturation Trilogy which gives the song a familiar, yet welcoming feel.

While "NEW ORLEANS" and "WHERE THE CASH AT" are definite callbacks to the Saturation trilogy, the rest of the album shows definite creative growth from those albums. Much of this can be attributed to Ameer, one of the biggest figureheads of the now fourteen man group, being kicked out of the group following domestic violence allegations. Ameer's distinctive aggressive and overtly sexual lyrics are missing from the current album, probably for the better due to the controversy some of they lyrics would certainly cause if released, especially because of Ameer's past. The lyrics off of this new album are much more introspective compared to other albums on the BROCKHAMPTON discography. This is best expressed on songs like "WEIGHT," which is about the anxiety and loneliness one can feel while being on the cusp of fame.

Not every aspect of this album is amazing however, with a couple songs being obnoxious at times. These two tracks are called "DISTRICT" and "SAN MARCOS", which chose to have an abundance of autotune for what seems to be a stylistic reason. While a valiant effort, it simply did not click with me and seemed out of place with the more raw tone of the rest of the album.

"Iridescence" is, in my opinion, the most consistently enjoyable BROCKHAMPTON venture yet. Overall, I would give it a score of 9/10. The songs are fun at times, meaningful at others, and most importantly all mixed masterfully. Once again BROCKHAMPTON has raised the bar for other contemporary hip-hop groups attempting to take their crown. "Iridescence" by BROCKHAMPTON can be bought for $16.99 or streamed wherever music is available.