Noodles Pho U
Sohini Surapaneni, Editor
October 14, 2018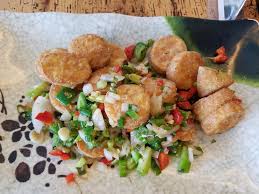 Upon noticing a pun that had been converted into the name of a Vietnamese inspired restaurant, I was introduced to this quick Asian fusion place, Noodles Pho U by a friend of mine. Naturally, I decided to visit with two of my friends.
We decided to go on a Saturday afternoon at about three, which I consider to be after lunch but before dinner, and when I hoped the restaurant would be relatively empty. It was, and my two friends and I were seated almost immediately; we could see a bigger group enter a little after us.
The walls of the restaurant were bright colors like orange and red, and there were several framed works of paintings that were most definitely influenced by Eastern Asia as I could see daintily brushed cherry blossoms and structured pagodas within them.
As we admired the paintings and looked at the bubble tea menu listed in bright colors on one of the walls that had a bar around it, we were confused as to why we were not given our menus or water when the group that had entered in behind us received theirs. Raising our hands, we politely asked for menus, which we were given after sitting in the restaurant for five minutes. Another five minutes after that, we were given water. Finally, when we asked to order, the waitress declined, stating that the bigger group had "asked to order first." Our group was baffled, especially when our order was going to less than half the order of the bigger table and we had entered the restaurant before them.
After browsing through the array of Asian fusion food, we chose the Japanese Salted Tofu and Tofu Lo Mein, because two out of three of us were vegetarian. Despite waiting nearly twenty minutes just to order, we were given our food ten minutes after that. The food was incredible; the tofu was cooked tenderly and the lo mein had a wonderful ratio where the vegetables did not overpower the noodles. A little basket on all the tables contained sweet and sour sauce and the classic Kikkoman soy sauce. The addition of both sauces to the tofu made it mouthwatering, particularly when paired with the noodles.
Around us, we could see customers who ordered crab rangoon, pho, fried rice and chicken curry, all scarfing it down. The food, as proven by our experience and online reviews, was some of the best in the area.
When we politely asked again for the check, the waitress who refused to take our order continued to roll her eyes and make motions that we should wait. The food was appetizing, and we all cleared the plates, but the service turned out to diminish our personal reviews of the restaurant.
Overall, Noodles Pho U produces excellent food and in return has built up a strong pool of customers. I visited again after my initial trip and experienced much better service. So, the next time you are craving Asian food, I'd recommend taking a visit!