Scouting Raiders in Upstate 8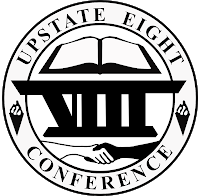 This year's fall season marks history for the Raiders at Glenbard South as it will be the school's debut season in the Upstate 8 Conference. The Raiders just recently left its longtime conference, Metro Suburban Conference (MSC) after many years of success. It will be a tough transition as the raiders were one of the biggest schools in the MSC, and then going into this year where the once big student body of roughly 1,200 will not even make a dent in the Upstate 8 as some schools numbers reach as high as 3,500 students. The Raider teams this fall hope to utilize their many different strengths as they attempt to continue their longtime success in the challenging seasons ahead of them.
Football:
       Coming off a 5-4 record and making it to the second round of the IHSA State Playoffs, the Raiders football team, led by head coach Ryan Crissey, will have an important season as they make their debut in the Upstate 8. "It's a unique opportunity for our football program, and athletic program as a whole, to establish a stable place for Glenbard South. I believe the football program can compete and have success against all the teams in the conference," expressed Coach Crissey on his excitement with the new season.
      Opening up with two big conference wins against Streamwood and Elgin, the Upstate 8 has been proving to be great confidence builders for some of the younger players on the team like the first year varsity quarterback, junior Nicholas Plaso.
      The Raiders will be facing off against schools that range from 1,800 students all the way 3,500 students, making Glenbard South the smallest school in the conference. Teams like West Aurora have always have proven to be dominant forces, and Crissey has believed that games like this will be a unique opportunity to see how this years team shapes up against one of the top teams in the state.
Boys Soccer:
      After last year's team made history for the boys soccer program by winning its first regional in the last seven years, this year's group has the bar set high for them. The Raiders will return with sixteen players, only losing two players from last years starting group.
     This years group will hope to rely on experience and leadership from all of the returning players, including second year captains in Spencer Pyle, in John McMahon and in Alex Flores.
      Facing the new Upstate 8 Conference will mean playing schools with much more talent than the previous years, and head coach Adam Szyszko believed this. "Overall moving to the new conference is going to be a terrific challenge in soccer terms. The schools are all class 3A whereas we're 2A, and they all have a strong background soccer wise. As a program it's going to be important that we all step up to meet that challenge." He has believed this team has the talent to not only bring home another regional title but to compete for a sectional championship.
      The boys opened their year by going 3-0 in the Raider invite for the second consecutive year, bringing home the hardware once again.
      Shortly following the tournament, the Raiders fell short in two nail biter games against Glenbard East and Timothy Christian losing both 1-0. Bouncing back on September 5th, the team earned the school's first point in the new conference by tying East Aurora 1-1.
      As the middle of the season is quickly approaching, the Raiders stand at 4-3-2 on the year, still looking for their first conference win with a record of 0-2-1 in conference matchups.
Boys Golf:
      After a poor performance in last year's Regional and not qualifying any players for the next round, the boys golf team, led by coach Phil Yudys, is looking for the new conference as a chance to rebound from last year. Yudys stated that the team's best competition will be West Chicago, who they played against on September 6th and West Aurora where the Raiders will close their regular season on September 18th.
      Triumphantly, he boys have started out their season with three victories over Glenbard East, Larkin, and South Elgin.  
      For this season, the Raiders have six returning players including seniors Tommy Brennan and Livio Valley and junior Jacob Cyrus, who has been on varsity since his freshman year. Also returning from the junior class, Nick Reynolds, Cooper Wilson, and Mike Nathe.
      The Raiders will utilize their experience as they look to contend for a conference championship this year.
Boys Cross Country:
      This year's boys cross country will be coming off a respectable season after making all the way to the sectional meet and placing seventh only two spots away from qualifying for the state meet. They look to not only continue but also improve that success heading into the new conference.
      Losing only one senior from last years top group, the Raiders will be returning a young but experienced group this season including senior Wesley Jedlicka and juniors  Edwin Svobada, Mike Eloubary, and Tyler Kalebic.
      Head Coach Douglas Gorski believed this years group has a good chance to compete for the conference title and has set a team goal to move past last years defeat in sectionals and advance to the state meet as a team.
Volleyball:
       This year's girls volleyball team led by head coach Chad Grant will be coming off a pretty successful season as they were the champions of the Metro Suburban Conference and hope to have a successful transition into the Upstate 8.
       This year there will be thirteen returning players, nine of whom are seniors with a lot of experience which they hope to use to help some of the younger players develop their game for the future.
      The Raiders have been battling injuries early, and this did not help them when they had two very important conference matches early in their season against Glenbard East and West Aurora.
       It also did not help that these were the two teams the Raiders expected to compete for the conference title. Coach Grant expressed the importance that a strong start to their season is crucial. "We play both of them very early in the season, so the next few weeks are very important for us."
      The girls take on West Aurora on September 18th at home.
Girls Tennis:
     This years tennis team will enter the new conference with a very young roster, with only five returning players from last season. The junior class will make up the majority of the team holding eight of the thirteen spots. The three seniors on the team Michelle Kwon, Laura Reese and Sohini Surapaneni look to use their leadership and experience to train their first year varsity players.
      Head coach James Fazio shared his excitement with their debut season in the Upstate 8, "We were near the top of our conference before the switch so we are expecting some tougher competition. There are some big schools in the new conference which usually means stronger programs but not always. We hope that regardless of the results, the tougher competition will help us grow and better prepare our top players for sectionals."
Girls Cross Country:
      The girls cross country team will be coming off an exceptionally strong season as it finished third in the Metro Suburban and qualified as a team for the state finals by finishing fourth in sectionals.
      The Raiders do have many important sports to fill as they lost three of their top five runners from last year. Top returners include Ellie Stewart, Ania Gniatczyk, and Julia Clingen. "We are top heavy with seniors, many with very little experience.  We have added five freshman to our roster to help balance it. Some of our athletes are very experienced but it looks like at least one freshman and two sophomores will be part of the core Top seven," explained Head Coach Mark Tacchi.
      Tacchi emphasized that he had little knowledge of the competition this new conference will bring, but he did state that Glenbard East and West Aurora were very strong last year.
      For this season, the team has set the goals to finish in the top three of the conference and return to the state finals as a team and Tacchi believes they can accomplish this as long as the runners stay healthy.
Girls Golf:
      The girls' golf team has gotten off to a bit of a rocky start this season as it has been looking for the school's first dual win in the new conference. Head Coach Kevin Burner shared his outlook on the Upstate 8, "There are only five total girls golf teams in the conference as some of the UEC (Upstate 8 Conference)  schools do not offer girls golf as a sport. So far, West Aurora's team looks strong."
      Returning players for this season will include Megan Bristow, Stephanie Price and Olivia Kollias who have all earned conference points in dual matches by finishing in the top four.
      Coach Burner emphasizes how important a good start to the season has been because of how short it will be as the final regular season match is on October 1st.
      With the conference tournament only three short weeks away, the Raiders hope continue their strong play they had in dual matches throughout the rest of their season.