Maize and Mash
Hang on for a minute...we're trying to find some more stories you might like.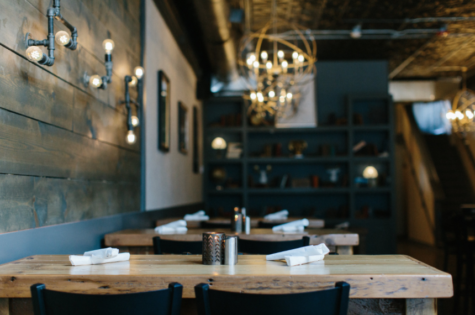 Amidst a ponder determining my lunch for the day, I opened the most reliable smartphone application there is for restaurant recommendations – Yelp!. If you were to do the same, the very top of the list would boldly behold the words "Maize and Mash." Mark my words, this cozy downtown lunch and dinner spot currently dominates the local Glen Ellyn charts for glaring reasons.
Upon my first entry, I was immediately greeted by a hostess, who led me to a wooden table with high stools (this was the set up for a majority of the restaurant). The walls, like the tables, were earthy wooden tones and looked brilliant underneath several skylights offered natural light in the otherwise dimly lit area. My scanning gaze could easily notice arrays of vintage books and faded maps which added depth to the surroundings. Across from the tables was an equally polished bar, complete with two TV screens on each end, both playing lively sports channels.
Now, the visuals of the menu were quite unique. As a customer, I was given a wooden clipboard with an undetachable parchment-like menu. It was obvious to me that their burgers seemed to be popular on the menu, and I saw several around the room with sides of golden french fries or buttery mashed potatoes. However, as a firm pescetarian, I ordered goat cheese pasta and my companion ordered a signature maize and mash salad with salmon on the top and mashed potatoes on the side.
In terms of service, I will say the wait was worth it, but for me it lasted nearly twenty minutes. I recommend that potential customers make visits to Maize and Mash during lunchtime if possible. Although it is busy even then, and there is an evident wait time, I later discovered that the evening dinner times entailed an even longer period of patience.
This is no exaggeration, but the goat cheese pasta was the utmost delicious pasta I had ever tasted. Despite initially being skeptical about the goat cheese, its blend with mozzarella and parmesan was a heavenly fusion in my mouth, melting at every forkful. I had suddenly obtained an obscure fondness for goats. Unfortunately, this pasta has now been discontinued, to be replace by cheese curds. I tasted those later on, but they were incomparable to carbs I had feasted on my prior visit.
Meanwhile, my friend received her colorful salmon-maize salad with the side of mashed potatoes (hence the namesake – Maize and Mash). It was sprinkled with feta cheese and vibrant yellow corn which provided a contrasting sweetness to the savory salmon and the leafy greens. The added nuts offered a satisfying crunch. Meanwhile, the mashed potatoes tasted exactly as I described them —soft and buttery. The only complaint I had was my personal preference of having more gravy with the potatoes.
Each dish was about $16, so after tipping, our total came out to approximately $40. We opted for no dessert as the entrée courses were filling enough.
I can comfortably agree that Yelp was in its right mind recommending Maize and Mash as the number one lunch place in Glen Ellyn. The food was mouthwatering, and the service was wonderful. The overall combination of these qualities have led Maize and Mash to be very popular among locals.