Dining at Juicy-O
Hang on for a minute...we're trying to find some more stories you might like.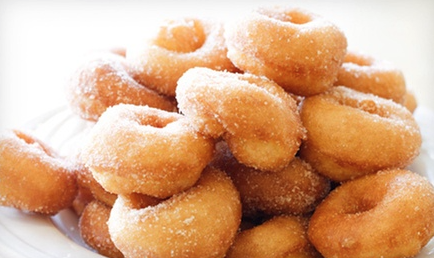 Upon walking into Juicy-O, I immediately got the sense that it was a brunch gem. Despite having four locations, Juicy-O attracts loyal and local clientele, who habitually return for its famous doughnuts, which are complimentary upon being seated.
After asking to be seated, I was taken to the back of the restaurant. As I was walking, I was amused by the decor because despite Juicy-O's warm and inviting atmosphere, the walls are covered with snarky, sarcastic framed quotes that add a spunky vibe to the restaurant.
Service was prompt and hospitable, and the waitress kindly explained the menu and pointed out classics and favorites.
The menu itself was varied with both lunch and breakfast entrés. Everything sounded delectable, and I ordered the French toast. I was also quickly served the legendary doughnuts which were a fabulous blend of cinnamon and sugar. They definitely lived up to their reputation! The menu also boasted crepés, waffles, pancakes, skillets, burgers and sandwiches. The waitress mentioned that the "Juicy-O Egg Salad" sandwich was her personal favorite dish.
After finishing the mini-doughnuts, my food was served. The French toast was mouth-watering, with sweet, maple syrup. It included bacon and eggs, each cooked to perfection and served warm.
The prices were not terribly expensive for the generous portions. The French toast was priced at six dollars, with several options of add-ons such as the addition of pancakes for seven dollars. My meal was more than ample, with a surplus of eggs, bacon and four pieces of French toast.
Once I had paid the bill, the waitress suggested I walk over to see the doughnut machine in the back of the restaurant on my way out. This showcased,vintage doughnut maker was a cool addition to Juicy-O's already entertaining atmosphere.
Juicy-O's eccentric, lively atmosphere and heavenly doughnuts set it apart from some of the traditional local eateries like Butterfield's Pancake House.
Overall, Juicy-O was a perfect place to quickly grab breakfast, brunch or lunch. Its service was gracious, atmosphere enjoyable and most notably, the doughnuts were worth returning again for.