City fun during winter break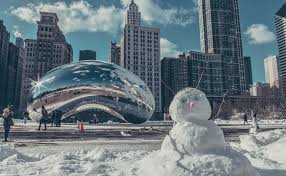 Hang on for a minute...we're trying to find some more stories you might like.
As winter break approaches, many fun holiday activities are occurring in "The Windy City."
For an easy, economical trip to the city, taking the train from the Wheaton or Glen Ellyn station is a
lot less time consuming than driving to the city. Students are able to get reduced tickets when
traveling to Olgilvie Station in Chicago where a round trip ticket from either station is $4.00.
Furthermore, each year Millennium Park hosts ice skating during the winter season, and it takes
about 18 minutes to walk to Millennium Park from the train station.
As well as, The McCormick Tribune Rink is open Mondays–Thursday (noon–8p.m.), Fridays
(noon–10p.m.), Saturdays (10a.m.–10p.m.), and Sundays (10a.m.–9p.m.). The rink offers free
admission; however skate rental is $12 Monday-Thursday and $14 Friday-Sunday/Holidays. These
prices are very reasonable and are similar to the Seven Bridges ice arena prices which are
$11(plus tax)
In addition, the Art Institute of Chicago is an intriguing place to visit during winter break. During the
holiday season, the institute decorates the lions that stand at the entrance with festive wreaths.
Also, on Thursday nights, the Art Institute offers free admission to Illinois Residents from 5-8p.m.
On other days, admission cost is $19 for students.
Yet, another place to explore while in the city is The Museum of Science and Industry. The
museum has many exhibits such as "Farm Tech" and "Genetics." However, during the holiday
season the museum has a "Christmas Around the World" exhibit. This exhibit features dozens of
trees that represent each unique culture. Since there is no student discount, tickets are $18 per
person.
Also, during Christmas time, the Lincoln Park Zoo has its annual Zoo Lights. Although an additional
bus or train ride is needed to get here, the zoo has free admission for everyone. This festive
display has over 2,000 lights and is a fantastic holiday event to visit over winter break.
Taking a trip to the city during winter break is an entertaining way to spend time with friends or
family. These activities are fun for all ages and is a festive way to enjoy the holiday season.