Shooter kills 26 in Sutherland Springs Church
Hang on for a minute...we're trying to find some more stories you might like.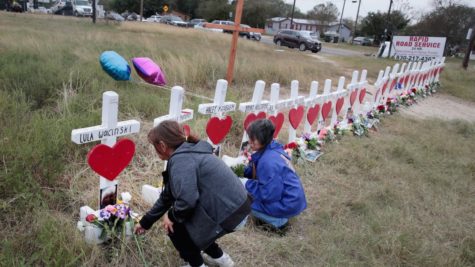 On November 5th, Devin Patrick Kelley opened fire at First Baptist Church in Sutherland Springs, Texas, killing 26 people and injuring another 20. Kelley was later found dead from a self-inflicted gunshot wound.
This mass shooting has affected many families in Sutherland Springs. In an interview by Orange County Register, resident Alena Berlanga describes the impact of the event. "This is horrific for our tiny little tight-knit town," said Berlanga. "Everybody's going to be affected and everybody knows someone who's affected."
According to witnesses, Kelley was dressed in all black and wore tactical gear, including a bullet proof vest. After the shooting, Kelley was confronted and engaged by Stephen Willeford with an assault rifle. After a few minutes, Kelley dropped his rifle and got into his car. He then drove off at high speeds. Another resident, Johnnie Langendorff, followed in hot pursuit of Kelley with Willeford in his passenger seat. "He just hurt so many people, he affected so many people's lives," said Langendorff. "Why wouldn't you want to take him down?"
Langendorff followed Kelley, while talking to police dispatch and updating them on the situation. After Kelley crashed, Langendorff stayed next to the car with Willeford, who was aiming at Kelley with a rifle. "I did what I thought I needed to do," said Langendorff. "They said that there's a shooting. I pursued and I just did what I thought was the right thing to do."
Police later arrived and discovered Kelley, dead from a self-inflicted gun wound.
Many people blame the lack of gun control laws as a reason behind the shooting. President Trump later made a statement while in Tokyo, Japan. "This isn't a guns situation," responded Trump. "This is a mental health problem at the highest level. It's a very, very sad event."
Along with a poor mental health record, Kelley had many criminal indictments. In 2012, Kelley spent a year in prison. He was charged for assaulting his wife and child. This incident labeled him as a person prone to domestic violence. In 2014, he was dishonorably discharged from the military. These actions should have prevented Kelley from ever buying a federally licensed gun, but they did not. The Air Force neglected to input Kelley's domestic violence into his public record, allowing him to legally buy a gun.
This shooting has sparked harsh emotions throughout the United States. Lawmakers and activists want to take another look at gun laws while gun owners are buying more guns to counteract shootings. Due to these recent events, the future of gun ownership may be in danger.