The Yellow Birds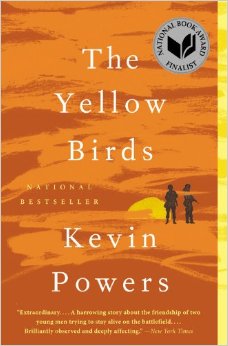 Hang on for a minute...we're trying to find some more stories you might like.
Kevin Powers' The Yellow Birds, is a novel that follows a group of soldiers in their efforts in Iraq to fight the war on terror in the early to mid 2000's. It focuses mainly on a character named John Bartle and the loss and hardship he faces during these years. While The Yellow Birds is presented in a well-plotted and sometimes moving manner that shows the tortuous nature of war and post traumatic stress disorder, it often falls into the trap of having overly complication of symbolism that puts the book's ending into a contrived light.
The book goes through a series of leaps back and forth in time in each chapter. Each part taking place in a different year. As the book flashes between moments in the life of John Bartle, it reveals his downward spiral into post traumatic stress disorder.
Some chapters show his happier nature before the war, how he could function in real life like a real person. Other chapters show his struggle to find purpose in the Iraq war. Finally, when he is discharged, he returns home and cannot function in a normal society.
The book explores themes of purpose, loss of innocence and the separation created between civilians viewing a war overseas and the people in the war themselves.
This book reveals Powers' mastery of figurative language. He is able to string together a plot while jumping through time throughout all of the book. His paragraphs flow together seamlessly while he uses repeated imagery of dust, water and drowning to convey his story. He is able to draw the reader in with a compelling tale of soldiers struggling to find their way amongst the endless violence and killing of the Iraq war.
However, Powers occasionally falls into a trap of over complicating his symbolism in the book.
Lengthy sentences describe how a fire between the soldiers represented the birth of anxiety between the soldiers. These sentences are written with intricate language and varying structures that add to the brooding atmosphere of the novel. However, these sort of sentences add nothing to the content of the book and ought to be left out. He writes in a way that would appeal to a college professor searching for outstanding figurative language; ultimately it just comes off as sloppy.
Additionally, Powers struggles to convey the violence in some war and battle scenes. The book does not successfully make the reader care about the characters or the development because the conclusion is revealed from the beginning.
The Yellow Birds is a must read for any war buff and anybody that feels passionate about mental disorders. The Yellow Birds is a novel that dives deep into themes of war and successfully presents a compelling story. Unless the occasional perplexing symbolism is too much to handle, this book is an easy recommendation.