"It's a very fun-filled club," said Leilani Benson, a member of Creative Writing Club, "where you can naturally be yourself." The Creative Writing Club is a warm and welcoming group that embraces students with all levels of writing ability. Their meetings begin by asking how everyone's day was and passing around a bag of candy. Then the students are given a prompt that they can follow, get inspiration from, or just write whatever they feel like. The club meets once a week on Thursdays where students write, collaborate, and share their stories.
     "It's a club that gives you confidence in what you are doing," said Safa Kamal, a member of the club. "When I first came to the club I wasn't super confident with my writing, but it's more fun when you have people around you doing the same thing," Kamal added.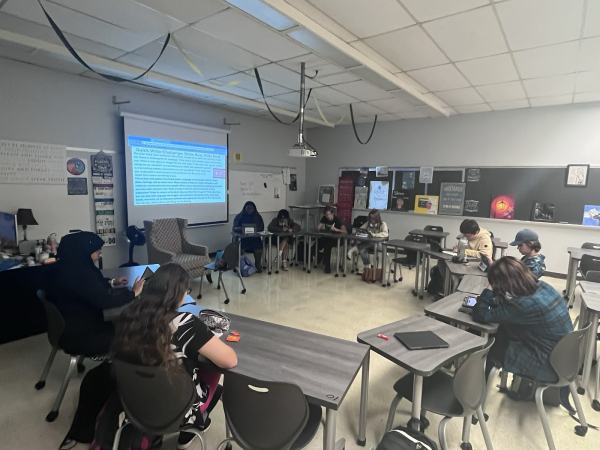 After they spend time writing, club members can share their work and get feedback if they choose to do so.  "Everyone here is super friendly," said Quinlin Pounders, a member of the club, "if  you want to get feedback or if you want to share your writing you are welcome to." The club also publishes a Lit Mag every year with a collection of work from the club members that people outside the club can buy. The students in the club get one for free. "We also try to do an open mic night every year," said Pounders. 
     When asked what their favorite thing about the club was, Benson, Pounders and Kamal all exclaimed it was  "the people"! "You don't have to be a really good writer just to join the club," said Kamal, "it's a place where you can cultivate your skill at your own pace." The Creative Writing Club is a kind community and a wonderful place to work with other creative students and learn more about writing.