CoffeeCon
Walking through the hallways of Glenbard South, there are many sights: students rubbing the sleep out of their eyes as they head to first period, people talking to their friends, that one point in your day when the tower gets so jam packed you stand there and wait to go up the staircase for what seems like at least half the passing period. But there is also another sight, the abundance of plastic cups with a mermaid on it (oftentimes spilling onto the floor leaving a dripping path from the spillage to the owner of the cup). Starbucks. Whether an addict or simply a once in a while indulger in this coffee house chain, everyone has a Starbucks drink they like.
While some go for the Strawberry Açaí  Lemonade or uber sugary frappuccino, many choose to order one thing: coffee. And for these coffee lovers, the event of the season is here: CoffeeCon Midwest 2023. 
Taking place October 14 and 15, CoffeeCon is host to Midwest coffee roasters with opportunities to taste test their beans and learn more about the art of coffee. You can learn about coffee, not only from local roasters, but also by attending the 30 free classes offered at the conference. Led by coffee experts on a diverse range of topics, there is a class to pique everyone's curiosity, from roasting to brewing, to the art of coffee. According to eventbrite, "From brewing techniques to latte art mastery, this is your opportunity to learn from the best and become a true 
coffee connoisseur." 
According to CoffeeCon's official website, "CoffeeCon is coffee entertainment." With an art gallery themed around coffee for attendees to explore and live performances that have all the good vibes of coffeehouse music, this event is a true celebration of coffee. 
Tickets to this event are $25 a person ($30 at the door), and with your ticket comes five free 3 ounce coffee bean samples to take with you and try at home. There is also an extra ticketed "tasting seminar" that brings your ticket price up to $40. However, anyone under 12 can attend for free with an adult. With each ticket, you will be entered into winning a raffle for a grand coffee prize giveaway with various prizes provided by the vendors. 
The convention will be held at St. James Farm from 9:00am to 3:30pm on October 14 and 15.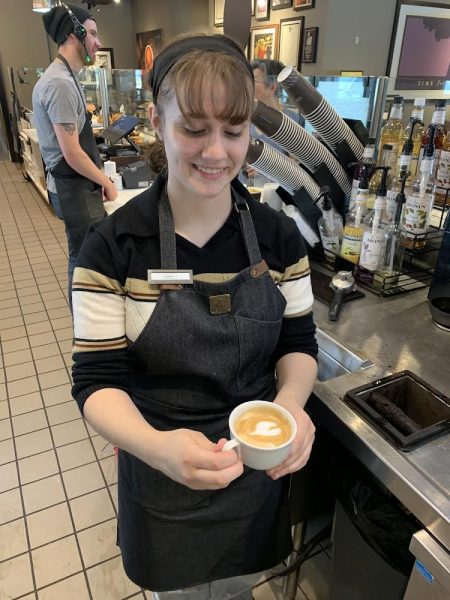 A student's passion for coffee
Lauren DeNardo, South senior and certified barista, is planning on attending CoffeeCon 2023. With a passion for coffee, DeNardo described making coffee as, "like making art." DeNardo has a coffee account where she posts the drinks she makes. Coffeebylauren is DeNardo's gallery, her masterpieces-crafted not out of paint or canvas, but out of oat milk and shots of espresso-captivate the eye with their aesthetic presentation. 
However, coffee-making is not just about art. Becoming an official barista requires certification. Certification is obtained with the passing of a test. According to DeNardo, it takes about three months to prepare for. DeNardo added that it took her some studying, but she successfully passed, as her job at Pete's Coffee required her to become certified. 
While DeNardo will not be teaching classes at CoffeeCon, other baristas as well as other coffee experts will be teaching at the convention. In hearing about the convention, DeNardo is looking forward to any classes about latte art and exploring all that this fest for coffee fanatics has to offer. 
With a glint in her eye, she cheekily added that "being a barista is a part of my personality, just because of how much I value it." From crafting drinks to making small talk with her regulars, DeNardo loves every part of her job. Coffee, for DeNardo, is much more than the mere beans, it is the art of brewing the perfect cup, the joy her coffee brings to her customer and quest to share her passion with the world. 
Her closing sentiment to all was, "Drink more coffee."