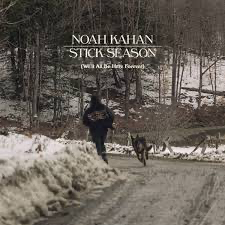 Noah Kahan's Stick Season and its extended release, Stick Season (We'll All Be Here Forever), released, respectively, on October 14, 2022 and June 9, 2023 . Stick Season is Kahan's third studio album, and his most successful by far. His previous indie-pop releases tackled his journeys with love and mental health while Stick Season takes on a small town folk genre to match the themes of home in the album.
Stick Season takes its listener through what it means to love a home and love people: it is about how deeply we put our roots in both of those things. From songs about small town Americana to ballads about love, Stick Season is about anything and everything, from growing up to moving on. Kahan's lyricism embodies these themes in ways that allow every listener to find a piece of themselves in the music. His poetic lyrics are hand-delivered though vulnerable vocals soaked in modern folk style, opening the listener up with warm reminders of home. Kahan builds a musical environment for the listener so all-consuming that it feels as if the lyrics burrow under their skin. 
Noah Kahan's lyricism is incredibly unique in style, subject, and form; his writing style is almost comparable to slam poetry or rap. The high frequency of lyrics and different messages grants his songs new meanings from line to line. Kahan's songs exist between two categories of literary styles: poetic allusions and very direct messaging. These are obviously very polarizing styles, and, when combined, they allow the listener to bounce between understanding his story and finding their own in the margins. For example, the opening song, "Northern Attitude," outwardly describes the effects of having been raised in New England. This is a great example of his literary allusions, as the viewer may relate to being raised in the north and its culture or the idea behind it. Listeners from Florida can get just as much out of the line "I was raised out in the cold" and its reprise, "I was raised on little light" as someone from Vermont, like Noah Kahan, could. 
One of many noteable songs on the album, "All My Love" describes the emotional dynamics behind remembering a past relationship and how it feels to still appreciate the bond they once had. The beginning of the song creates a narrative of two past partners meeting and catching up. They speak cordially without the spark of romance they once had. "No winter coat to keep out all the cold of your atmosphere," Kahan sings. This meeting allows for the lyrics to reflect on the good times spent together as Kahan himself reflects on the relationship. "We once sang retrograde, we'd shake the frame of your car," he writes. The experiences clearly stuck with him, and the song describes the residue that past love left on his life, a residue he can still see and feel. Kahan sings, "You burrowed in, under my skin, what I would give to have you out from me." The exhilarating emotion in this song comes from the feeling of being completely content with the ending of a relationship while leaving space to feel the joy it once brought. Descriptions of being healed from a relationship gives peace to the listener. Very few songs about a breakup are sung with a smile and a breeze of freedom flowing around its listener. "All My Love" is about the people who you will always wish the best for. Kahan reassures this past flame, "It's all okay there, ain't a drop of bad blood. It's all my love, you've got all my love."