Each year, Glenbard South does three separate theater productions. This year's first show, Rainbow Fish, is different as it is the first student directed and designed show at Glenbard South.
Student director Kaitlyn Urbanowicz shared how they have been involved in every show at Glenbard South, but this one feels different to them. "This show really stands out to me because it's the first time I'm taking the lead on directing for any of the productions here at South," they said. "It's a completely different experience to have KR take on a producer role, leaving me as the main director." 
Having a student director not only is a new experience for the director, but also for the cast members.
"The lovely Kaitlyn Urbanowicz did a tremendous job with the show and I can't wait for their efforts to be seen," said Juliana Henry, who plays Rainbow Fish in the production. "It has been a joy and pleasure working with them and I can't wait to share the magic with our audiences that Kaitlyn has shared with us."
Having a completely student designed and directed production comes with its own set of challenges, but it also allows for a different level of creativity in all aspects of the show.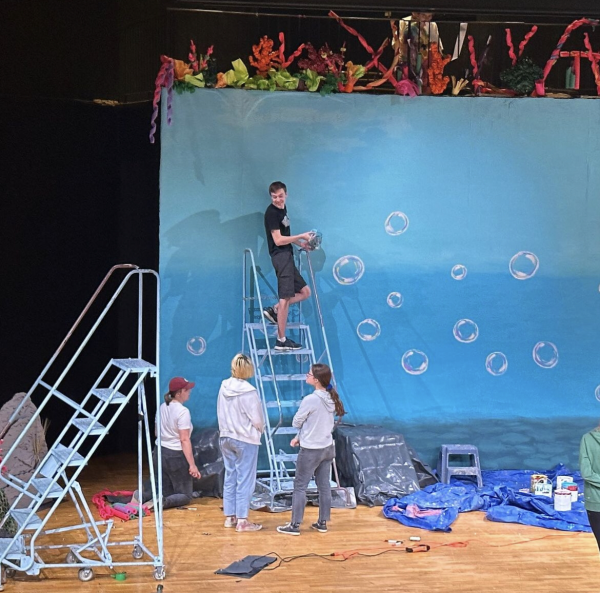 Andrew Lullo, a junior at Glenbard South, is the scenic and lighting designer for the show this year. "The ability to not just help create a design brought to be by our adult directors but to create the design myself has been a new experience that has shown me a lot of the intricacies of leading a show." He continued to say that having a student directed show has brought new ideas to the show which may not have been implemented otherwise.
Different elements of a show such as the set and the lighting can bring a show together. It adds cohesion and allows the crowd to become completely immersed in the show.
"My favorite part of the show has been getting to see all of the design elements get finalized and combined into the beautiful set that we have created," said Lullo. The set in the theater has many different aspects that catch people's eyes: different rocks, coral, as well as the theater wall, which has been transformed into an ocean background complete with bubbles. Lullo added, "Getting to see the completed set, especially with the lighting elements added in is truly a pleasure."
Urbanowicz shared that their favorite part of working on Rainbow Fish was definitely the people and cast members they worked with every day on the show. "No matter what kind of day I'm having, when I walk into rehearsal, they never fail to cheer me up," they said. "It's such a special experience to be able to create with my peers." 
Opening night is approaching quickly! Tickets can be purchased online at This Link or purchased on the day of the show. The production of Rainbow Fish will be performed September 14th, 15th, and 16th.