Mykala Totty and Kaden Cu Represent South's Musical Prowess at GBX
As different as the four Glenbard high schools may seem, there is one night a year when students from all schools come together for a night of live music. For a few hours, as the concertgoers cheer and celebrate each other, it is difficult to imagine them as anything but a family, basking in the fluorescent glow of young musical genius.
GBX was introduced to the Glenbard district in 2022, making its debut at Glenbard East. Allowing students to perform their original music in front of a large audience, GBX is essentially the Coachella that parents will actually let their teens attend. Sophomore Mykala Totty and senior Kaden Cu, the only South students to perform at GBX in 2023, took to East's auditorium stage as a headlining duo on March 14th. They introduced themselves with the stage name of Mykaden, a fitting combination of their first names. Totty sang three of their own songs alongside a cover of "Trust Fund Baby" by Why Don't We while Cu accompanied them on the drums. 
Both musicians raved about the atmosphere of the festival. "You get to hear music you have never heard before and see so many talented individuals do what they love," Totty said.
Cu and Totty have known each other for around a year and a half, their friendship having solidified during rehearsals for South's 2022 musical, High School Musical, as well as rehearsals for one of South's acapella groups, Unaccompanied Minors. Building off an already strong friendship, their collaboration at GBX was simply second nature. "Being so close definitely made this process so much more fun for both of us," said Cu.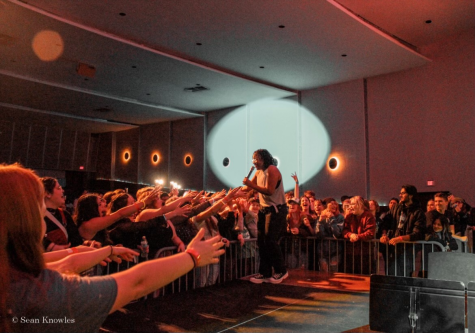 Music certainly holds a place in the hearts of most South students, but to these creatives in particular, music means expression. Both Cu and Totty involve themselves in multiple musical extracurriculars at South, including choir, Unaccompanied Minors and theater. Independently, Cu is a trumpet player in South's band while Totty is a member of South's other acapella group, Treble Threat. 
Totty, for one, began writing their own songs in third grade. Even from a young age, Totty found solace in being able to confide in the music they made, a trustworthy companion. "I have always had very big emotions. I could never talk to anyone about them as a child, so I wrote them down," Totty confessed. "I want to make music for people who think their feelings are not valid or understood because I felt like that at one point. Sometimes, I still do."
Now, Totty releases music under the stage name Mykala Faye. Many of their tunes center around love, especially the unrequited kind. Totty gushed, "I want to make music that people can relate to. I love it when people listen to my songs and dissect the lyrics." Updates on Totty's ongoing musical journey can be found at @just_mykala on Instagram.
South students who attended Glen Crest Middle School will also remember Cu's series of musical performances with Maddie Wetle. The two became Glen Crest celebrities after amassing a reputation for covering popular songs during school assemblies. Clearly, performing in a duo is nothing new for Cu. "Maddie is one of my greatest friends, and though I wish she could have been up there with me, seeing her in the crowd front and center really meant a lot," Cu admitted.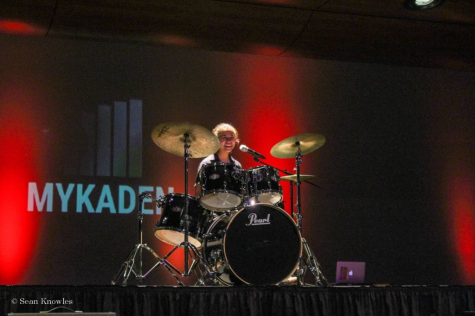 Totty was already familiar with GBX after having headlined its 2022 festival. "I was terrified," they revealed. "I didn't know how anyone [in the audience] would react, but as soon as I stepped on stage, I was a whole new person." As an aspiring musician, their first GBX performance marked some of Totty's first steps into the world of professional music. Deeply moved by the success that was their first performance, Totty has every intention to return to GBX as a junior and senior. "This night is always so special," Totty remarked. "It gives me hope for my future." Beyond this confidence boost, Totty also caught the eye of GBX's administrators, who were quick to promote them to a leadership position within the festival's management team.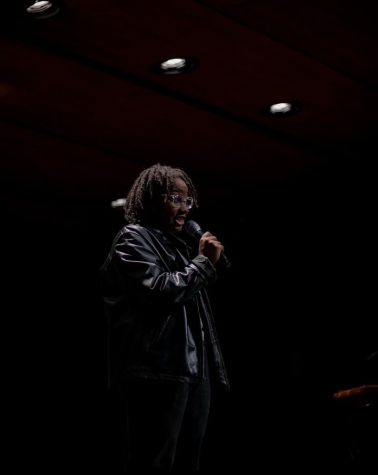 Although GBX was only uncharted territory for Cu, both performers remember feeling nervous before their set began. "It was that fun kind of nervousness that you feel before the curtains draw on opening night or when you are next in line for a rollercoaster," Cu mused. Still, having a friend to rely on did wonders for the pair's stage fright. "In times [when] I was nervous or starting to doubt myself, I just had to look over and see that [Mykala was] in it with me too," Cu confirmed.
Despite any initial apprehension, Cu and Totty now recognize that any nerves they felt were temporary and inconsequential at the end of the night. "As soon as I am on stage, they all go away. It is an out-of-body experience," Totty said. Cu, too, finds performing to be a cathartic sport. Being on stage, he believes, gives him a defined purpose. "[It] makes me feel like I have an impact on people," he professed. Cu's feelings of accomplishment are well-founded given his audience's enthusiasm. Truly, the sheer impact of both musicians was easily seen (and most definitely heard) while the crowd rallied in hearty support of these two creatives.
The sole representatives of Glenbard South at GBX, Cu and Totty continue to demonstrate that their school's musical accomplishment lies in the hands of its impassioned students.