"Dear Martin": A Necessary and Captivating Read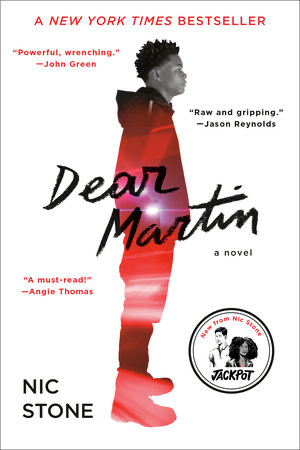 New York Times Bestselling author Nic Stone visited Glenbard South on March 14th. Stone spoke to students about her new book, Chaos Theory, while touching on various topics, such as mental health, relationships, parenting and college. For those who may be looking for where to begin when it comes to Stone's work, Dear Martin is the perfect place to start. 
Dear Martin, Stone's debut novel is an unflinching exploration of police brutality and the American justice system. 
The novel stars Justyce, a Black high school senior who attends an all-white private high school. His story begins in the August of Justyce's senior year when he has an encounter with police brutality while attempting to help his ex-girlfriend. While trying to stop his intoxicated ex-girlfriend from driving, Justyce is placed in handcuffs and physically assaulted by police officers before being taken into custody. Later, Justyce is released without charges filed against him, and yet the incident continues to plague his mind. In letters addressed to Dr. Martin Luther King Jr., Justyce attempts to make sense with what happened and live his life according to the morals of  Dr. King. 
Justyce writes his first letter in the jail cell he is detained in, emulating Dr. King's famous "Letter From a Birmingham Jail." Justyce addresses Dr. King as "Martin," writing to him candidly and treating him as a close companion and confidant. 
Dear Martin flips between these letters and chapters written in third person. In his letters, Justyce reveals his most vulnerable thoughts, sharing his newfound perspective after his arrest. Now more than ever, he is seeing and feeling angry at the systemic racism in the world, which is prevalent wherever he looks. Justyce also explores how he fits into the numerous worlds he inhabits; from the under-resourced community he grew up in with his mom, his best friend's wealthy lifestyle to his white private school, Justyce navigates what it means to be a member of each. 
As the book progresses, Justyce experiences another instance of discrimination when he and his best friend Manny anger a white cop while they are driving with the music turned up. The situation escalates and Justyce and Manny are blamed in the media aftermath of the incident. 
Reeling from these events, Justyce finds guidance from Doc, the teacher of his Social Evolution class, and his debate partner Sarah-Jane. Ultimately, though, Justyce finds his own voice and understanding of the world, making his own decisions about how he wants to fit into it. 
Not only is this book an honest examination of systemic racism in America, but also an artistic composition of captivating prose with a well-crafted narrative that draws readers in. Stone's fast-paced writing works well to keep readers flipping pages, desperate to find out what happens next. 
Yet Stone's honesty in her characters is what makes Dear Martin so memorable. Justyce is an incredibly dynamic character, jumping off the page and into reality, into the mind of the reader, unable to be forgotten. 
Ultimately, Dear Martin is an essential read to gain a better perspective on systematic racism and oppression in America while introducing readers to a loveable, captivating and memorable character that brings Stone's story to life.