Bestselling Author Nic Stone Visits Glenbard South
Nic Stone, the New York Times Bestselling author of Dear Martin, Dear Justyce, Odd One Out, Jackpot All Bets Are Off, Chaos Theory and numerous other titles visited Glenbard South 7th period on March 14th.  
Students Sana Muneer, Tres Moore and Gabby Seymour spoke alongside Stone at the event. Muneer introduced Stone to the audience while Moore and Seymour asked questions to help moderate the flow of the event. Other students were given the opportunity to ask questions at the end of the presentation. 
During her presentation Stone touched on numerous topics, speaking not only about her books but also about her journey to becoming an author, her own personal mental health obstacles and even her college experience.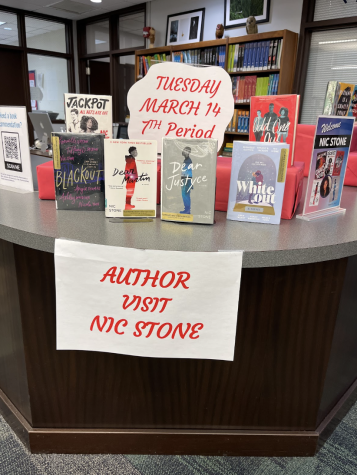 In her newest release Chaos Theory, Stone delves into mental health and did so also when speaking to South students. Stone expressed frustration with the term 'mental illness' explaining that "It's just a neuro divergence, that someone decided wasn't the optimal way to function." Stone shared with the audience that with one of her diagnoses "that anything could tip me over and cause me to have a major depressive episode," Stone followed by saying, " and that's okay." 
Stone also shared her college experience. Stone explained that she originally attended Georgia Tech but felt "this ugly cloak thing on my shoulder" while she was there, describing the negative effect other people's "unchecked biases" had on her. Stone then attended Spelman College, a Historically Black College,  describing it as being a complete turnaround as it was an "incubator" as she was in a space where "everyone wanted to succeed together" and "supported each other". 
Stone's son Milo also joined in on the presentation, lovingly attaching himself to his mom and giggling as he looked at the rapt audience. Stone included her son in her presentation, her free flowing style making his adorable interruptions seamless. 
When Stone concluded her presentation, Abbie Anderson, sophomore, asked Stone about her publishing journey, Anderson reflected that Stone sharing a little more behind the scenes of how she became an author was especially inspiring as Stone "wrote something because she liked it and she enjoyed it," rather than just to get something published.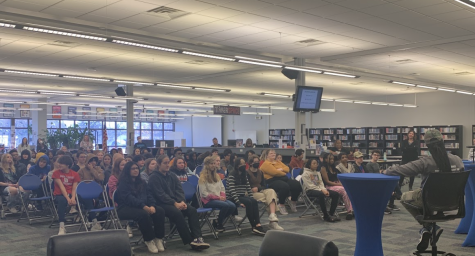 Gabby Seymour, one of the student moderators, also reflected on hearing about Stone's publishing journey. "She didn't get a book deal until like her third book," said Seymour, "but she kept trying to get a book out there." Seymour took away that in her own life she should also "keep trying." 
Anderson was also excited to hear Stone talk about Chaos Theory and while she hadn't read the book yet, she stated, "I always find it interesting to hear about an author's story of writing a book before I read it, because then you can kind of take that into consideration while you're reading it." 
Seymour shared that she enjoys Stone's books as her characters are relatable and her books have uplifting messages that resonate with the reader. One line in particular stood out to her in Stone's novel Dear Martin, "'if nothing in this world changes who are you going to be' and I think that just sticks with me," said Seymour. 
"I learned to be more confident in myself because I really wasn't sure about this," lamented Seymour in regards to her public speaking role. "I spent the whole day panicking before she came but it wasn't that bad when she actually came. I think that's pretty cool." 
But Stone will continue to make an impact on Seymour the rest of the year as Seymour shared, "I like to pick an author to read every year." This year it will be Stone. 
Similar to Seymour, it is evident that Stone's refreshing sentiments, candid and calm stage presence and of course her well respected literary repertoire will also leave a lasting impact on South students.